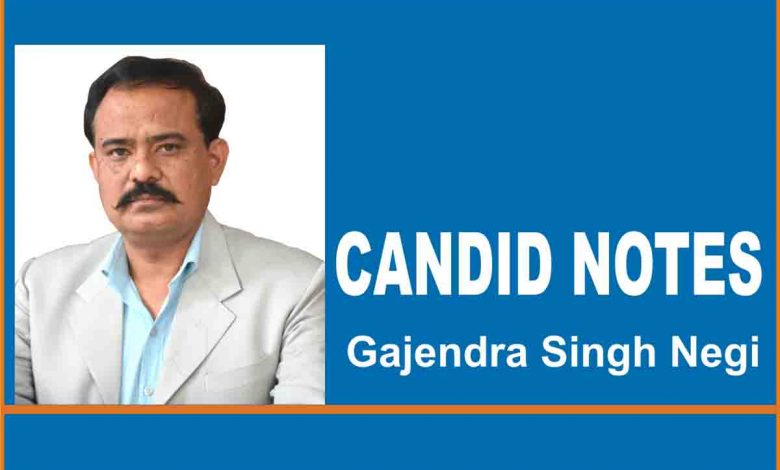 Friday, 06 May | Gajendra Singh Negi | Dehradun
Saffron laboratory
It appears that the think-tank of the ruling BJP has made the Himalayan State of Uttarakhand a laboratory of its experiments in socio-political realms. In the latest such attempt, the minister holding the education portfolio unveiled the grand plan to incorporate major changes in the textbooks of the students in the state. The minister asserted that the ancient Indian knowledge, culture and ethos would now find a place in the curriculum and syllabus in the schools of the state. On the orders of the minister the obliging department has even set up a committee which would recommend the outline of the desired changes. Immediately after assuming the coveted chair of CM for the second consecutive time, the first thing Pushkar Singh Dhami took out of his bag was the Uniform Civil Code (UCC). After testing the waters in Uttarakhand many BJP ruled states have now expressed their plans to implement the UCC in their respective states. Those donning the thinking hats of the saffron party have already implemented their idea of changing the CMs at the drop of a hat in Uttarakhand last year and have also noted its positive political consequences.
Attachment anxiety
The bold decision of CM Dhami to cancel all attachments in the CM office and send the attached employees back to their parent departments has made the Babudom of the state alert and restless. It is now speculated that the order of the cancellation of all attachments could now be extended in all the departments of state government. There are hundreds of employees in the Uttarakhand government who are enjoying the fruits of power by getting attached to the office of their choice. The offices of the ministers, top bureaucrats, directorates and head offices of different departments are the favoured places of attachments of employees. For the employees having proper political connection, an attachment is a convenient by-pass for the transfer under whom they would continue to get salary from their original office and the tenure in attached position is not recorded in their service record for future transfers. This practice however creates functional hindrance in the departments, creates imbalance in the whole system and promotes the culture of sycophancy among the employees.
Bullying Babu
The members of the personal staff and subordinates of an officer in the Himalayan state are under duress due to his whimsical behaviour. This Babu holding an important assignment in the state administration leaves no chance to harshly reprimand his juniors. At times he does so in presence of other employees and for no obvious reasons. Interestingly after unnerving his subordinates with a loud outburst the Babu also soothes their frayed nerves by use of his one liner 'try to understand son'. What is even more interesting is that the members of the personal staff of this officer, though harassed, do not want to leave him because of other benefits which he sometimes bestows over them.