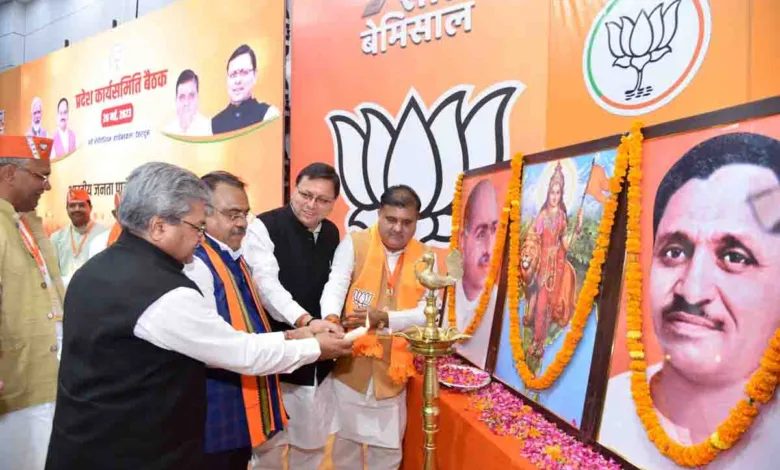 Sunday, 21 May 2023 | PNS | DEHRADUN
The Bharatiya Janata Party 'Maha Sampark Abhiyan' national in-charge Tarun Chugh said that the party is set to break the 2014 and 2019 parliamentary election records and achieve a thumping victory in the coming Lok Sabha elections on the basis of its work. He exhorted the party workers to strive for ensuring that the achievements of the Central government during the nine years under Prime Minister Narendra Modi are known to all citizens. He said this during the meeting of the party's working committee presided over by the BJP State president Mahendra Bhatt on Saturday.
Chief minister Pushkar Singh Dhami claimed that the Centre under PM Modi's leadership had done more for the nation's development than the opposition governments had done in 60 years. In nine years, India has jumped up from the position of 10th to the fifth largest economy in the world. Any major decision at the global level is not taken without PM Modi's opinion, he averred. "Uttarakhand is also moving forward on the developmental path under PM Modi's guidance. We have to raise awareness on the works of the Centre and State with humility especially among the deprived and exploited sections, the poor, women, youths and the elderly. We all have to work hard and ensure that PM Modi is elected to a third term in office with the blessings of the people. It is vital that he returns to the Centre to fulfill the dream of making Uttarakhand a leading State by 2025," said Dhami.
BJP State in-charge Dushyant Kumar Gautam requested the MPs and MLAs to present the account of their work to the public as much as possible. Referring to opposition parties opposing the Central Vista, he said that the people of India are welcoming the new parliament building the nation will get on June 28. However, those people are unhappy who are getting more than Rs 800 crore as rent for government offices being run from buildings around the current parliament, he alleged.
The BJP State president exhorted MPs, MLAs, office bearers, various public representatives and workers of the party to work seriously to further strengthen the Maha Sampark campaign. He expressed confidence at the party's chances of winning all the five Lok Sabha seats in Uttarakhand. However, he said that the victory margin has to be increased for which the party has to work towards the 51 per cent target.