Breaking News
5 pilgrims from West Bengal & local driver killed in mishap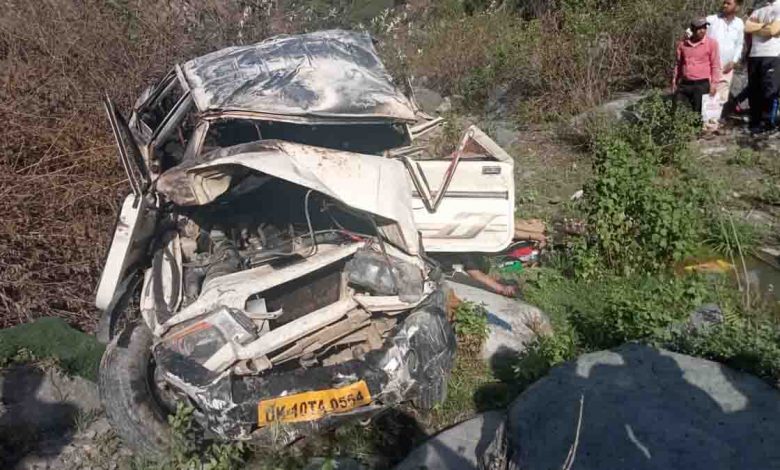 Jeep transporting pilgrims towards Gangotri falls off road & catches fire at Kandisaur
Thursday, 26 May 2022 | PNS | New Tehri
Five persons from West Bengal and the driver of the jeep they were travelling in towards Gangotri died after the vehicle fell off the road and down the mountainside near Kandisaur Tehsil of Tehri district on Wednesday. All the six persons died on the spot and their bodies were charred due to the vehicle catching fire after the mishap. The Tehri district magistrate has ordered a magisterial inquiry into the mishap.
According to sources, the driver of a Bolero jeep being driven from Rishikesh to Uttarkashi lost control of the vehicle at Kotigad near Kandisaur at about 3:30 PM on the Chamba-Dharasu stretch of NH 94. The jeep also caught fire after falling down the mountainside. The local residents who had spotted the mishap occurring reached the site and extinguished the fire. The local administration was also informed about the accident after which the police, administration and 108 ambulance service reached the accident site. Meanwhile, chief minister Pushkar Singh Dhami expressed grief at the mishap. On learning about it, he directed officials to take necessary action swiftly.
The Tehsildar Kishan Singh Mahant informed that a total of six persons were in the jeep when it met with the accident. The ill-fated jeep was carrying part of a group of pilgrims who were also travelling in other vehicles. The other members of the group of pilgrims also reached the site on learning about the accident. The authorities had sent the bodies to the Kamand hospital for post mortem examination from where the bodies would be handed over to the other members of the group. Those killed in the mishap have been identified as the driver, Mukhba village (Uttarkashi) resident Ashish (35), West Bengal residents Pradeep Das (47), Nilesh Bhuniya (23), Madan Mohan Bhuniya (61), Jhumur Bhuniya (59) and Devmalya Devnath (43).