Spiritual
Yog Gram- holistic way to good health and joy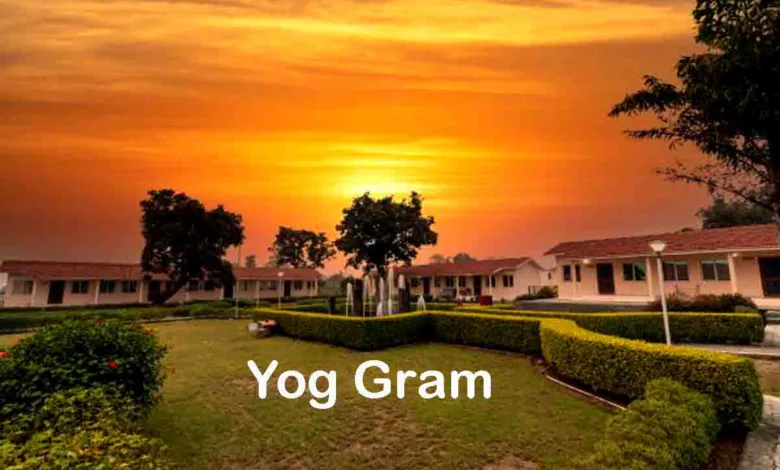 Paritosh Kimothi | Dehradun
At a time when lifestyle diseases have become a major threat to the lives of people, a rising number of people are moving towards naturopathy. Instead of daily consumption of various medicines with different side effects to manage health issues ranging from hypertension, diabetes and other ailments, people are increasingly opting for holistic health systems. Yog Gram, established about 20 kilometres from Haridwar city in a green and peaceful area adjoining the Rajaji national park is proving to be a haven for those with various health issues and ailments.
Operating under the patronage of Swami Ramdev and the direction and guidance of Acharya Balkrishna, Yog Gram is a unique centre for providing holistic treatment through an integrated use of Yoga, naturopathy and harmless herbs and medicinal plants.
A visit to this centre shows the reasons for its popularity with people from across India and abroad too regularly staying here for varying periods ranging from a week to a fortnight and more. When a person who has booked a course of treatment here arrives at the centre, the first thing is a consultation with the Vaid- Ayurvedic physician. The Vaid checks the available medical reports, talks to the person about his or her health issues and then makes recommendations along with a diet chart. A strict dietary regime and a healthful routine are the basics which are augmented by various Ayurvedic and Yogic treatments and exercises which appear to have an almost miraculous effect compared to what mainstream medicine does. An aged couple who underwent a week-long course at Yog Gram said that the diet, various Ayurvedic treatments and Yoga helped balance their blood pressure and sugar levels. Some of the aches and other health issues they were experiencing were effectively cured after just a few days at the centre. A lady from Britain who had also come for a week to the centre stated that her thyroid levels returned back to normal after undergoing the holistic naturopathic treatment at the centre for a week.
Yog Gram helps people live a healthful lifestyle and consume a nutritious diet which most people are unable to do at home. Breakfast consists of sprouted fenugreek seeds, fruits and Ayurvedic concoctions while other meals are specific to the health condition and requirements of the person. Apart from the treatments a person pays for, there are various free workshops and sessions which take place throughout the day. Another striking point is that the greenery and clean air on campus- where only electric vehicles ply- is in striking contrast to the polluted air of the city.
Yog Gram provides physical, mental and spiritual health, happiness, peace and prosperity to the afflicted through the integrated therapy of Ayurveda, Yoga and naturopathy. It presents a unique combination of the ancient traditional medical system and modern diagnostics. Yog Gram is an unprecedented experiment of bringing together the age-old rural ambience and the ultra-modern lifestyle and the latest architecture. The naturopathy treatment centre is one of the best in India and is equipped with the latest cutting edge equipment. It is also certified by the National Accreditation Board for Hospitals & Healthcare Providers. It has been assessed and found to comply with NABH accreditation standards for AYUSH programmes.
For those looking to find a cure for various ailments or just looking for a break to detox and recharge themselves, Yog Gram is an ideal destination.