Breaking News
Working on four -pronged strategy on health front: CM Dhami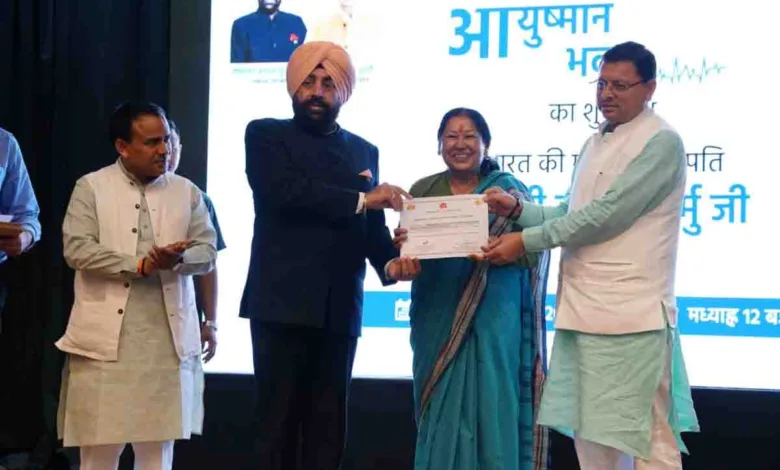 Thursday, 14 September 2023 | PNS | DEHRADUN
The governor of Uttarakhand Lieutenant General ( Retd) Gurmit Singh, chief minister Pushkar Singh Dhami, health minister Dhan Singh Rawat and others digitally participated in the launching of the 'Ayushman Bhava' programme on Wednesday. The programme was launched by the President Droupadi Murmu in Gandhi Nagar Gujarat. A state level programme was organised at Raj Bhawan to mark the occasion in Dehradun. Speaking on the occasion, the governor said that Ayushman Bhava is a revolutionary programme for bringing in awareness to 140 crore Indians about health and making their lives happy.
He said that the health department and other linear departments should get associated with the programme and work sincerely to ensure that it reaches every household and individual.
Terming the programme as a game changer and a turning point, the governor said that everyone must take a commitment to make Uttarakhand healthy and happy with the help of the programme. He said that the secret of a healthy India lies in healthy villages.
CM Pushkar Singh Dhami said that the programme will be able to provide health services to the person standing last on the social ladder. He said that a special outlook will develop of time bound implementation of the policies and programmes of the health department from the events organised by Ayushman Bhava programme. Dhami said that Indian culture teaches a lesson on the whole world as a family and our vision for good health is ' one earth one health'.
The CM said that the State government under the guidance of Prime Minister Narendra Modi is working on a four pronged strategy in the State which involves creating public awareness to prevent spread of the diseases, provide low cost and effective treatment facility to poor, increase in quality and quantity of health care professionals and to work in mission mode to tide over all the problems.
Health minister Rawat said that 700 blood donation camps will be organised in the State under the Ayushman Bhava programme. He said that 10 camps each will be organised in every assembly constituency. The minister said that apart from blood donation, registration for blood donation and organ donation will also be done in the camps. The minister added that weekly health fairs will be organised in the government hospitals and Ayushman health and wellness centres.
MLA Mohan Singh, secretary health R Rajesh Kumar, additional secretary health Swati Bhadoriya, director general health Dr Vinita Shah and others attended the programme.