Crime
Wife & partner nabbed along with three for husband's murder in Gucchupani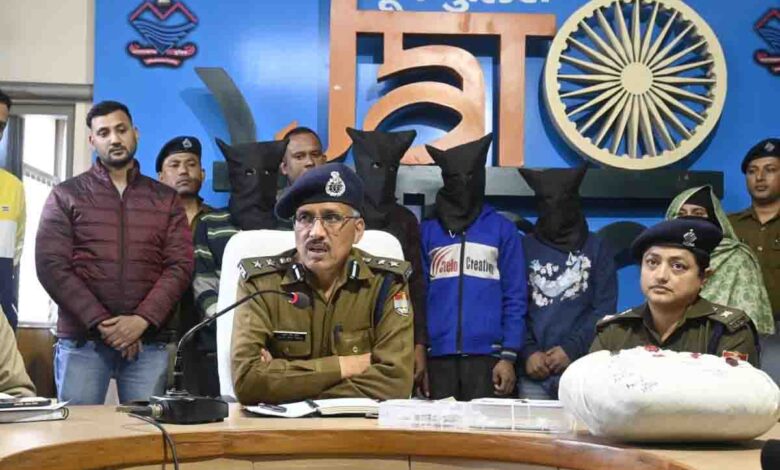 Friday, 02 December 2022 | PNS | DEHRADUN
The Dehradun police arrested five accused including the victim's wife on Thursday for the murder of an e-rickshaw driver whose body was found near Gucchupani on Tuesday. The Senior Superintendent of Police (SSP) Daleep Singh Kunwar informed the media here on Thursday that the police found the body of e-rickshaw driver Mohsin Ahmad (30) near Gucchupani on Tuesday. The victim had the mark of a heavy blow to his head which made the police suspect murder. The SSP made three teams that soon started the investigation. The teams analysed CCTV footage and mobile contacts of the victim and inquired from his neighbours and relatives. The police found a contact number on which the victim had called five times on the day of his death.
On further investigation, the police found out that the number belonged to a man Irshad from Uttar Pradesh. The police nabbed him on Thursday from Ballupur Chowk by tracing the location of his phone. He revealed in the inquiry that he was paid Rs two lakh to kill the victim by a man named Raees Khan.  He confessed to killing the victim along with his two accomplices, Shahrukh and Ravi. The police soon arrested both the accomplices on the same day who revealed that Sheeba, the victim's wife was allegedly having an affair with Shabeer Ali and both had approached Raees to kill the husband. Sheeba and Shabeer Ali were soon arrested from Mehuwala, said the SSP. He stated that according to the accused, the victim and his wife got married eight years ago and have two children.
The victim allegedly used to beat the wife for years and three years ago, she started an affair with her neighbour Shabeer Ali. When the husband got to know about it he beat up the wife and sent her to her brother's home in Roorkee but in July this year, she returned after consistent requests of the victim's family. However she resumed her affair with a neighbour that was being opposed by the husband due to which, they both decided to kill him, said the SSP. They both approached Raees, who hired Irshad for the task. Irshad along with his two accomplices posed as passengers and booked the victim's e-rickshaw to visit Gucchupani. They also offered him alcohol to make him drunk and then smashed his head with a heavy rock.  The SSP said that the arrested accused will be present in the court and the absconding accused Raees will be nabbed soon too.