Top Stories
War like situation, can't leave any gaps in efforts: CM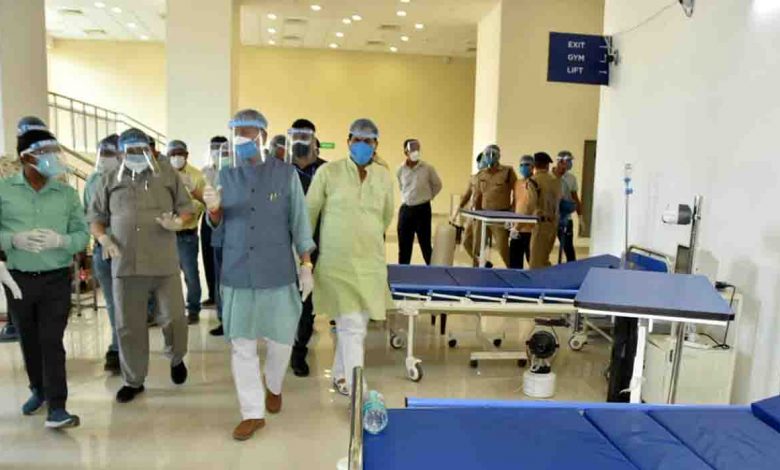 Saturday, 08 May 2021 | PNS | Dehradun
Rawat visits Covid care centre, under construction hospital & AIIMS to check preparations
Chief minister Tirath Singh Rawat inspected the Covid care centre at the Raipur stadium here on Friday. He also visited the 30-bed ICU recently set up here. The Raipur MLA Umesh Sharma 'Kau' informed Rawat that five BiPAP machines had also been installed in the ICU. The Covid care centre head Dr BP Singh requested the chief minister to increase the number of doctors and other staff for the operation of this centre. Rawat assured the centre head of necessary action to fulfil the requirement. He directed the Dehradun district magistrate Ashish Kumar Srivastava to ensure necessary facilities along with meals for doctors, nursing staff and others, drinking water and proper arrangements for resting. The Vidhan Sabha speaker Prem Chand Agrawal was also present during the inspection.
Later, the chief minister visited the under construction 500-bed Covid hospital at IDPL in Rishikesh. The DRDO officials explained the entire layout of the Covid hospital to the chief minister. They informed that the hospital has been divided into two sectors of 250 beds each. Along with a liquid oxygen plant, 24 hour electricity backup has also been arranged at this hospital. Additionally, pharmacy and laboratory are also being arranged. The chief minister directed that the construction of this facility should be completed as early as possible. Stating that this is a war like situation, Rawat said that no gaps should be left in the efforts. He said that the state government should be informed immediately about whatever cooperation is needed from the state government. The state is receiving the full support of the Central government in developing the facilities, said the chief minister.
Rawat then reached All India Institute of Medical Sciences (AIIMS) in Rishikesh where he held a meeting with the institute director Dr Ravi Kant and his team regarding the preparations. He said that all hospitals have been directed to inform the administration 24 hours in advance about their oxygen requirement to prevent a hassling situation. He expressed gratefulness to all the doctors and paramedical staff involved in the fight against Covid-19. The AIIMS director informed Rawat that the oxygen plants in the institute are of less capacity which needs to be increased. He told Rawat that the institute needs a 40,000 litre oxygen plant. The chief minister assured necessary action in this regard.