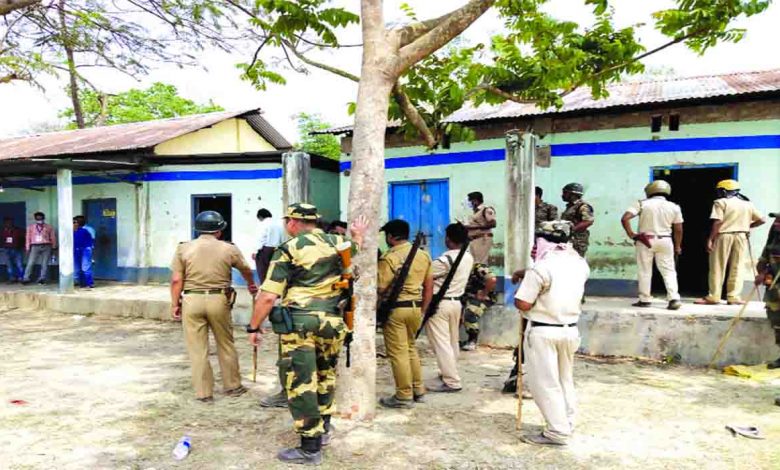 Sunday, 11 April 2021 | Saugar Sengupta | Kolkata
4 dead as police open fire on mob attacking booth in Cooch Behar; TMC man kills voter
Violence peaked in the fourth round of 8-phase Bengal elections claiming five lives in a blood-splattered polling, but a resolute electorate fought off terror in their own way with more than 76 per cent of them casting their votes when reports last came in at 5.30 pm.
While polling percentage for Hooghly was 76.02, it was 75.03 for Howrah. In South 24 Parganas 75.49 per cent of voters cast their votes whereas in Alipurduar the rate was 73.65 per cent. In Cooch Behar thatsaw maximum violence the polling rate was 79.73 per cent.
Five people on Saturday lost their lives to Central Forces firing and violence perpetrated by alleged hooligans of the Trinamool Congress, police said. While violence was recorded too in other parts of the 44 seats in five districts that went to polls on Saturday all the incidents of death took place in Sitalkuchi block of Cooch Behar district of North Bengal bordering Bangladesh, Bhutan and Assam.
As the ruling Trinamool Congress struggling hard to retain power in the face of rampant corruption and criminalisation blamed the Central Forces and the BJP for the Satruday's loss of lives, the official reports coming from the Election Commission said the Central Forces opened fire in self-defence.
Four persons Hamidul, Manirul and Samilul (three of the same family) died when the Central Forces opened fire to disperse a crowd of 300-400 villagers that had attacked booth number 126, following rumours that a child had been beaten to death by the CISF personnel. Five others too were injured in the firing and had been admitted to the local hospital, sources said.
A fifth person, a first-time voter Ananda Barman was shot dead outside a neighbouring booth also at Sitalkuchi by an alleged Trinamool Congress man a panchayat member, sources said.
Incidentally this is the same block where the convoy of Bengal BJP president Dilip Ghosh was attacked with bombs, brickbats and rods a couple of days ago barely an hour after a meeting addressed by Chief Minister Mamata Banerjee where she asked the people, particularly the women to enforce their voting rights by gheraoing the Central Forces.