Others
Vedic Science refresher course starts at University of Patanjali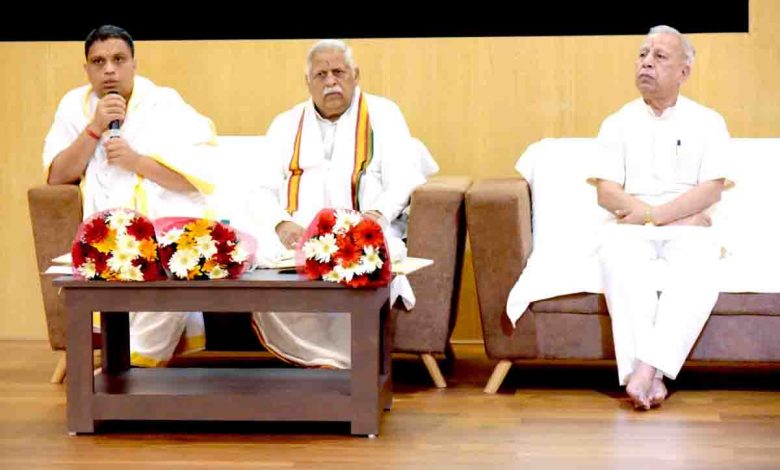 Monday, 20 June 2022 | PNS | Haridwar
A refresher course on Vedic Science was inaugurated at University of Patanjali here on Sunday by Acharya Balkrishna and professor Ishwar Bharadwaj. Speaking on the occasion Balkrishna said that in ancient times, Yoga was a part of philosophy subject but today they are separate subjects because these subjects were refreshed from time to time by the intellectuals. He said, "University of Patanjali is an institution based on Vedic culture which is why this workshop is being organised to provide novel knowledge to the teachers. There has been a deterioration in human thoughts and actions since we distanced ourselves from the basic principles of Vedic knowledge and our culture. Most of those committing suicide nowadays are educated and knowledgeable person. They take such extreme steps due to being distanced from their values, culture and Vedic knowledge," said Balkrishna. He further said that the culture of India has always believed in spreading knowledge instead of restricting it. The refresher course on Vedic Science is being organised with this thought so that all can benefit from it, he added.
Former faculty member of Gurukul Kangri Vishwavidyalaya, Ishwar Bharadwaj said that he appreciates the efforts being undertaken by Balkrishna for the welfare of the nation and its people. He also expressed his views on Vedic Yoga on the occasion.
In the second session, the university's pro-vice chancellor Mahaveer Agrawal exhorted the participants to pay attention to the teachers and Acharyas in the refresher course to benefit from the knowledge and further improve the quality of their teaching method. Faculty members from various universities were also present on the occasion.