Top Stories
Various issues discussed on second day of Y20 summit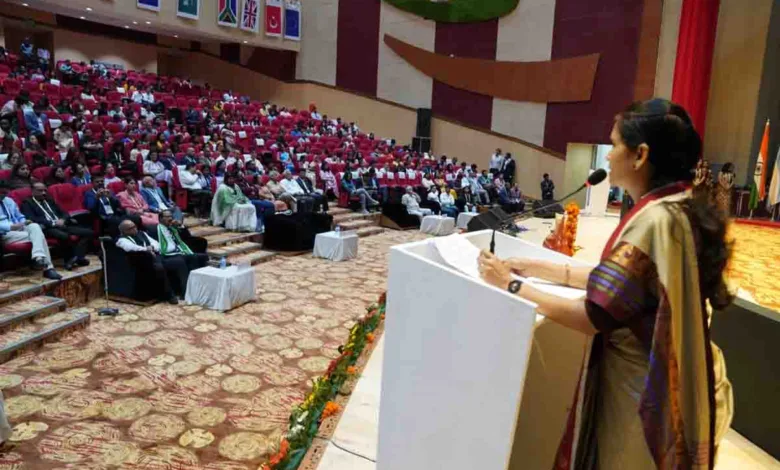 Saturday, 06 May 2023 | PNS | DEHRADUN
Panel discussions on topics including Yoga and mental health, holistic and spiritual healing, and sports and fitness were held on the second day of the Y20 consultation in Rishikesh on Friday. Speaking as the chief guest the Union Minister of State for Health and Family Welfare, Dr Bharati Pravin Pawar elaborated on the priorities of the Youth-20 conference. She said that today more than 1.5 lakh health and wellness centers are providing health services in the country.
During the inaugural session on the second day of the Youth-20 consultation summit held at AIIMS Rishikesh, emphasis was laid on promoting holistic health. Pawar said that only healthy youth can use their energy in the development of the country. That's why it is necessary that every youth of the country should be physically and mentally healthy. She said that in order to make India a world leader, we have to improve the future of our youth.
Group discussions on health and holistic development of youths by various youth representatives of G20 countries continued till late in the evening in various sessions on the second day of the summit. Pawar said that the Prime Minister Narendra Modi has a vision that the youths of India should gain special recognition for the country at the international level. This is possible only when the youths of the country remain healthy. She also spoke about the 'Khelo India Yojana' launched in the year 2018 with the aim of ensuring the reach of the youths at the international level through sports. Referring to teleconsultation run by AIIMS Rishikesh and the facility of delivery of medicines by drone to remote areas, she described it as a multi-beneficial scheme in the field of health services and praised the institute for running this scheme.
Earlier, welcoming Union minister, AIIMS Rishikesh executive director Dr Meenu Singh described the various events organised under the Youth-20 summit as a special opportunity to improve the future of the youths. Said that in this summit more than 700 participants from India and abroad are sharing their views.
Youth-20 president Anmol Sovit also addressed the gathering. He said that under the leadership of PM Modi, the Central government has a vision to make the country a "golden" nation by the year 2050. This will be possible only when the youths of the country move forward by strengthening themselves on the agenda of health and sports. Expressing concern, he said that 30 percent youth of the country are currently suffering from depression due to various reasons. For this, it is necessary that the youths should adopt Yoga and spirituality to keep mentally healthy.