State
UPES School of Computer Science hosts Hard War 2.0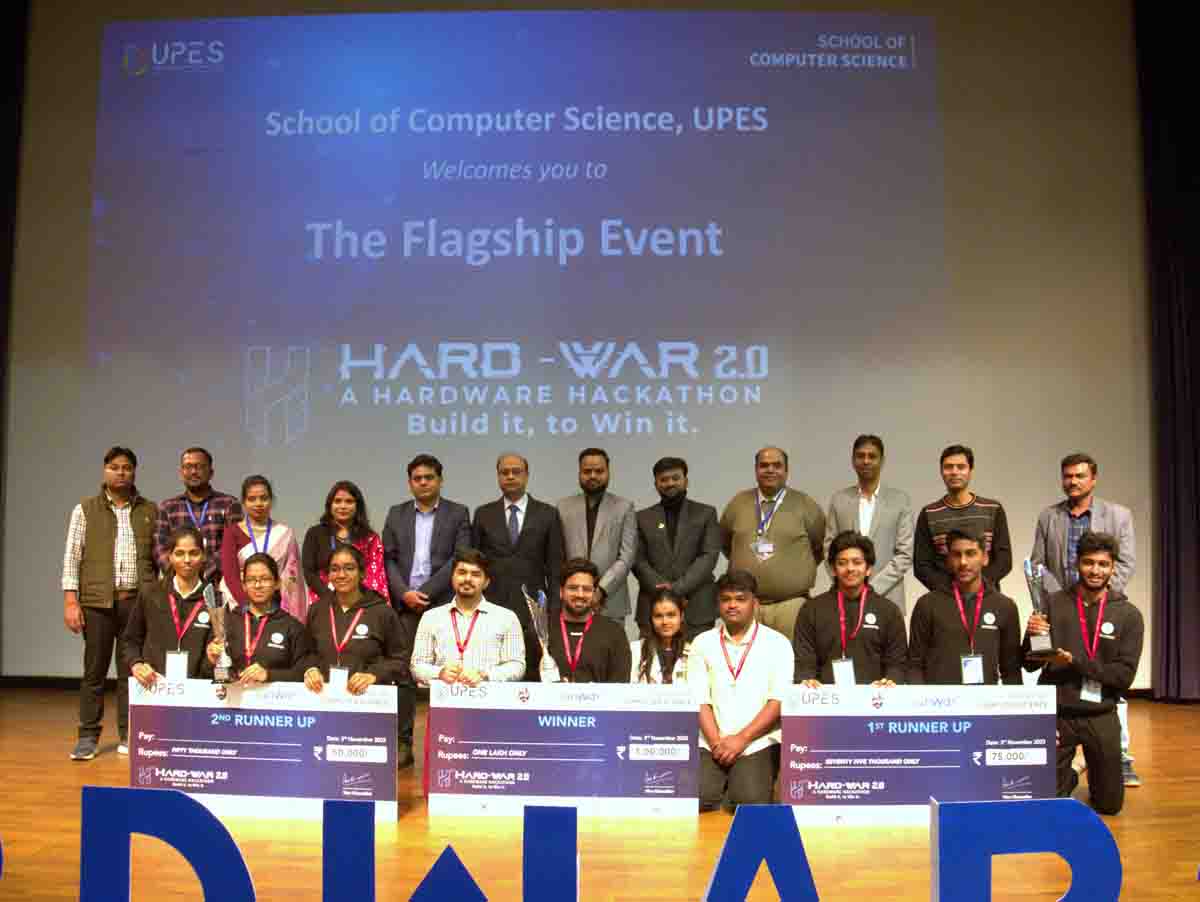 Monday, 20 November 2023 | PNS | DEHRADUN
UPES School of Computer Science in collaboration with the Cyber Sentinel Society and Runway as the co-organiser, concluded Hard-War 2.0, an international hardware hackathon. Centred around the theme of "Rethinking Sustainability", the second edition of the hackathon served as a platform that celebrated the ingenious application of hardware solutions to real-world challenges, university officials said.
Hard War 2.0 witnessed the presence of Harish Chandra Karnatak, Scientist SG and Head, Geoweb Services, IT & Distance Learning Department at Indian Institute of Remote Sensing (IIRS), ISRO Dehradun, as the chief guest. The event unfolded through four distinct phases – registration, ideation, execution and the grand finale, attracting entries from over 110 teams from educational institutions across the globe. These teams brainstormed and conceptualised solutions to their chosen challenges, leading to the top 50 teams bringing their ideas to life through the creation of hardware prototypes during the execution phase.
The grand finale witnessed the evaluations of the top 20 teams by a jury panel including Prabhat Kumar from NIT Patna, Sanjay Sharma, CEO, Threat Guardians, Lakshay Gupta, SDE II at Ottonomy.io and Madhuben Sharma from UPES. Team Rym Grenergy, GD Goenka University emerged as the winners, securing a reward of Rs 1,00,000. Meanwhile, Team Bheema. AI, Woxsen University bagged the first runner-up trophy and Team Hackgirlz, NIT Rourkela attained the second runner-up position, securing a prize of Rs 75,000 and Rs 50,000 respectively.
Spotlighting the pinnacle of innovation and collaboration in the realm of technology, Hard War 2.0 was sponsored by Coding Ninjas & Threat Guardians and supported by Virtual Cyber Labs as education partners. Additionally, the institution's Innovation Council and Startup Uttarakhand served as ecosystem partners for the event.