Breaking News
U'khand's mangoes, honey & kidney beans to reach markets in USA & UAE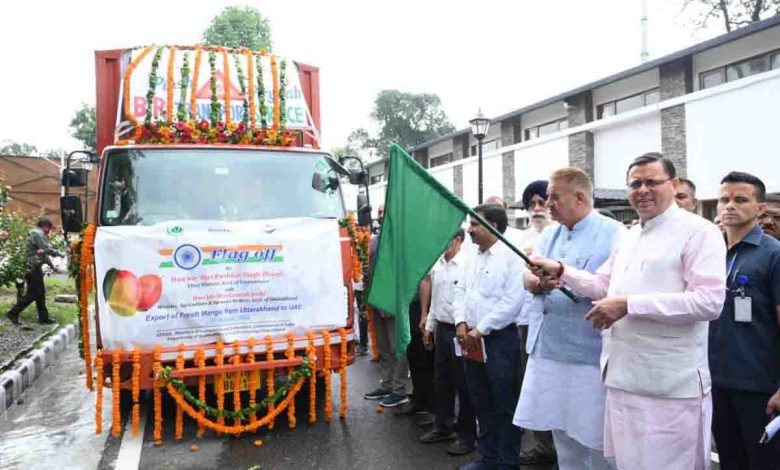 Friday, 06 August 2022 | PNS | DEHRADUN
Chief Minister Pushkar Singh Dhami flagged off the first consignment of mangoes, honey and kidney beans from Uttarakhand for sale in international markets from his residence on Friday. The consignment from the state is being exported by the Agricultural and Processed Food Products Export Development Authority (APEDA) which is an agency of the government of India. The consignment had 1.5 tonnes of mangoes, 28 tonnes of kidney beans and 80 tonnes of honey.
Speaking on the occasion CM Dhami appreciated the initiative of sending local products to foreign destinations by the medium of APEDA. He expressed confidence that one would witness a big increase in the export of local products from the state now.
The CM said that the state government is consistently working in ensuring better marketing for the local produce and for it special focus on branding, packaging and marketing of local products is being done. He said that more efforts need to be put into promotion of local products. The CM said that the state government has prepared an agriculture calendar for increasing the income of farmers and making effective planning and arrangements for them. He said that efforts with the help of agriculture, cooperative and horticulture departments are being made for development of clusters for augmenting the income of small farmers. He said that the Prime Minister Narendra Modi has taken a resolve to double the income of farmers and the Uttarakhand government is committed to fulfil this resolve. Dhami said that the schemes of the state and union government related with agriculture development and welfare are being taken to the persons standing last on the social ladder. The CM further said that the agriculture, irrigation, horticulture and other related departments should prepare plans for increasing the income of farmers of the state on 25th anniversary of creation of the state and they should start pilot projects for it. Dhami added that the state government would come out with the Kisan Protsahan Scheme for farmers.
The Agriculture minister Ganesh Joshi said that many schemes are being operated in the state for doubling the income of farmers. He said that the agriculture and horticulture departments set a target to double the production of the state in the year 2025.
The Agriculture secretary Shailesh Bagauli said that for the first time Chausa and Langda varieties of mangoes are being exported to Dubai from the state. Similarly the honey and kidney beans would be sent to the USA.
The additional secretary of Agriculture, Ranvir Singh Chauhan, Horticulture director HS Baweja, Agriculture director Gauri Shankar and others were present on the occasion.