Breaking News
U'khand hit hard by price rise in BJP regime- Congress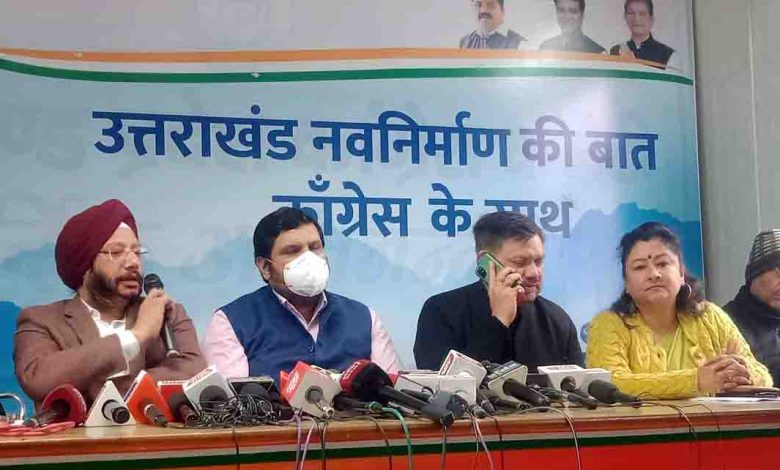 Sunday, 23 January 2022 | PNS | Dehradun
The Congress party has claimed that the price rise has affected Uttarakhand more than the rest of the country. According to it the Consumer Price Index (CPI) increased by 8.1 per cent in the state as compared to 6.2 per cent of the country.
Addressing the media persons here on Saturday the national spokesperson of the Congress party Gaurav Vallabh said that the Wholesale Price Index (WPI) is at an all time high of 12 years and the CPI too is increasing in the country with no reprieve to the general public in sight. To add to the woes of the people the GST on many essential goods was hiked from 5 to 12 per cent from January 1.
Giving a comparative account Vallabh said that the excise duty on petrol in the year 2014 was Rs 9.80 which has now jumped to Rs 27.90. Similarly the excise duty on the diesel has risen from Rs 3.56 to Rs 21.80 during this period.
He claimed that the wealth of 98 richest people of the country is more than the combined wealth of 55.20 Crore Indians. " In the development model adopted by Modi, the wealth of 84 per cent of Indians decreased in the year 2021 but the income of one of his friends increased eight times while the income of another friend doubled,'' he said.
The Congress spokesperson claimed that the double engine has given a gift of 30 per cent more price rise to the people of Uttarakhand as compared with the rest of the country. Giving examples he said that the prices of pulses, edible oil and vegetables increased substantially in the last one year. Vallabh said that the prices in villages of Uttarakhand are 15 per cent more than the cities of the state. 'While the prices in the cities of Uttarakhand are more than the rest of the country, the general prices are 15 per cent more in villages than cities,'' he claimed. Vallabh added that the price of a cooking gas cylinder has increased by Rs 325 in the last one year.
Launching an attack on the double engine government the Congress spokesperson said that the BJP government has scored well on two accounts, unemployment and price rise in which Uttarakhand is on top and in all other things the government has failed completely. He said that the BJP should answer the questions on price rise posed by the Congress party.
Congress leader Gurdip Sappal said that during the Modi regime the number of billionaires has increased by 23 per cent but the number of poor people has increased by 4.60 crore. He said that the Monmohan Singh government worked hard to lift people above the poverty line but now more and more people are becoming poor. He said that on one hand the government is hitting people by price rise. It is systematically destroying Public Sector Undertakings (PSU). The employment opportunities are getting reduced.