Breaking News
U'khand awarded for adventure tourism & all round development of tourism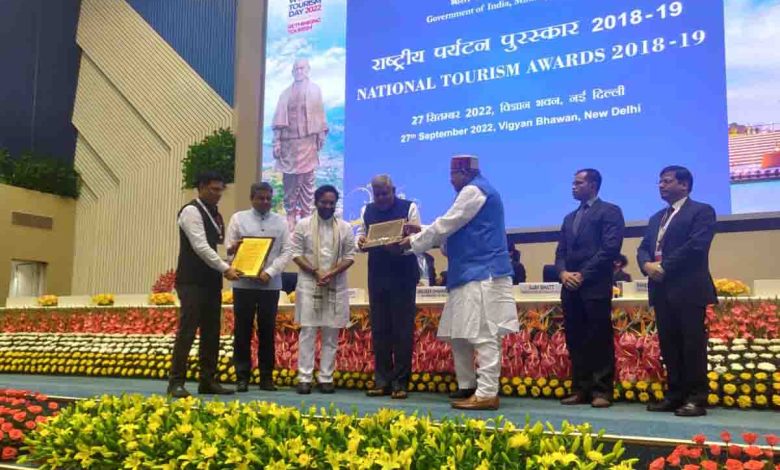 Wednesday, 28 September 2022 | PNS | DEHRADUN
On the occasion of World Tourism Day, Uttarakhand received the first prize in two categories, for the best adventure tourism destination and all-around development of tourism from the Ministry of Tourism. The State's Tourism and Culture minister Satpal Maharaj received the awards from Vice President Jagdeep Dhankar during the presentation of National Tourism Awards 2018-19 in New Delhi.
Maharaj congratulated the people of Uttarakhand and stakeholders in the tourism industry. Invited domestic and international tourists to visit Uttarakhand, he said that Himalaya Darshan by helicopter has been launched recently in Mussoorie.
The minister said "The Tourism department is working on multiple projects to attract tourists to Uttarakhand. Both the awards received by Uttarakhand prove that the popularity of the state is increasing consistently among the tourists. Himalaya Darshan service will further increase the inflow of tourists in the State, who will be able to enjoy the high peaks of the Himalayas and the natural beauty of Uttarakhand from a helicopter."
He further informed, "Uttarakhand Tourism has also launched an attractive scheme for travel influencers across the country, under which the influencers making videos, in any language will be empanelled with the Tourism department. Once empanelled, they will be invited to introductory tours to different places in Uttarakhand, which will be sponsored by the State government. Folk arts, rural culture, adventurous geo-ecology, homestays, unique spiritual experiences and nutritious cuisine will be showcased through these curated tours," he said.
Among the many programmes being organised to encourage winter tourism, the major events include Trek of the Year – Pindari Glacier in Bageshwar district from October 1 to November 15 and the Bagchi Bugyal trek in Chamoli district from December 1 to January 15, Winterline Carnival in Mussoorie and Nainital during December, rafting championship in Champawat from December 2022 to January 2023, national skiing championship at Auli in February 2023 and International Yoga Festival to be held in Rishikesh in March 2023, added the minister.
Meanwhile, to encourage tourism a photography and videography contest was also launched on the occasion of World Tourism Day. Interested participants are invited to participate online. Winners will be selected in five categories with the total prize money being Rs 25 lakh.