Others
Two-day international conference on naturopathy concludes at University of Patanjali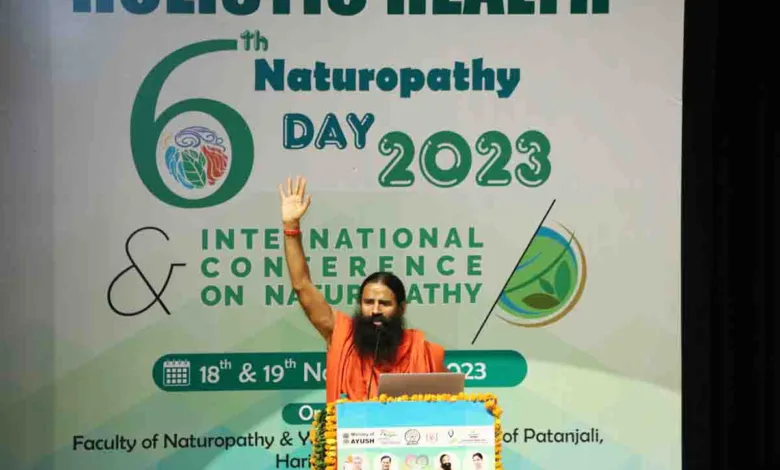 Monday, 20 November 2023 | PNS | DEHRADUN
The two-day international conference on naturopathy for holistic healing organised jointly by the AYUSH ministry, Central Council for Research in Yoga and Naturopathy (CCRYN) and National Institute of Naturopathy along with the University of Patanjali concluded at the university on Sunday.
Speaking on the occasion, the university chancellor Swami Ramdev said that naturopathy has been accorded recognition at par with Yoga and Ayurveda. Speaking about the benefits of naturopathy, he said that it is bereft of ill-effects which affects the disease and the whole body of the patient. Naturopathy should get proper recognition at the international level too, he said.
Expressing his views, the university vice chancellor Acharya Balkrishna said that one cannot ignore the contribution of naturopathy. He said that consistent change is requirement in medical services in keeping with the changing times. "Our protocols need to be certified so that the world can know about this system. We are all made from nature and should not move away from it," he said. Balkrishna also thanked CCRYN director Dr Raghavendra Rao for the successful conduct of the two-day international conference.
On the concluding day of the conference, naturopathy experts discussed the opportunities and challenges in this sector in detail. They also responded to the queries raised by the participants. Dr Pradeep MK spoke on the current progress and latest research in naturopathy while Dr Sunil Paudel spoke on the role of naturopathy in pain management. Various experts expressed their views in a panel discussion on challenges and strategies for naturopathy. Other experts also spoke in detail about the need for standardisation in Yoga and naturopathy education and naturopathy in public health. Speakers also shed light on other subjects including the naturopathy treatments for lifestyle diseases. Dr Vadiraja HS spoke on challenges and strategy for integration of Yoga and naturopathy department in AIIMS.