Top Stories
Trying to create investor friendly environment in U'khand- CM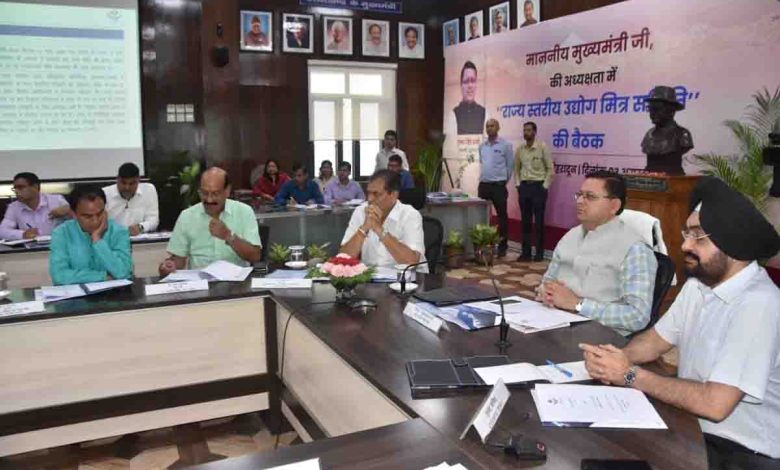 Thursday, 04 August 2022 | PNS | Dehradun
The chief minister Pushkar Singh Dhami has said that the State government has initiated many reforms to create an investor friendly environment in the state and as a result of these efforts the state attracted an investment of Rs 9,000 crore in the last one year. The State is now in the achievers category in the ease of doing business, he said.
Dhami chaired the meeting of the state level Udyog Mirta committee held at the state secretariat on Wednesday. He said that the industries working in the state are the brand ambassadors of the state. Dhami claimed that a good amount of work has occurred in the infrastructure, policy reforms and simplification and assured that the government is ready to undertake every possible type of policy and regulatory reforms in the industry sector. On the demand of the representatives of associations of industry that the maps in the industrial areas should be approved by the SIDA, Dhami directed the chief secretary to examine the demand and take necessary action. He said that the process of transfer of small industrial plots under the Micro Small and Medium Enterprises (MSME) policy should be simplified and directed that a policy for promoting plastic recycling and alternative industrial units should be made.
He said that the proposal of setting up a Lisa (extract of Pine tree) depot in every district should be examined and the solar power policy should be revised. He also invited suggestions from the industry in this regard. The CM ordered that necessary improvements should be undertaken to promote biomass, eco tourism and Ayush sectors in the state. He said that the government treats all the suggestions with seriousness and informed that a total of 133 subjects came up from the suggestions in different meetings and dialogue programmes and out of them action on 87 have been taken. He said that the union government has helped in improving connectivity in the state work is going on in road projects worth Rs 30,000 crores. The CM appealed that everyone should take part in ' Har Ghar Tiranga campaign and hoist the national flag on their homes from August 13 to 15.
The meeting was attended by cabinet ministers Prem Chand Agarwal, Subodh Uniyal, Dhan Singh Rawat, chief secretary SS Sandhu, additional chief secretaries Radha Raturi, Anand Bardhan, principal secretary R K Sudhanshu, secretaries Shailesh Bagauli, R Meenakshi Sundaram, Pankaj Kumar Pandey and representatives of associations of industries of the state.