Breaking News
Top priority should be given protecting child rights: CM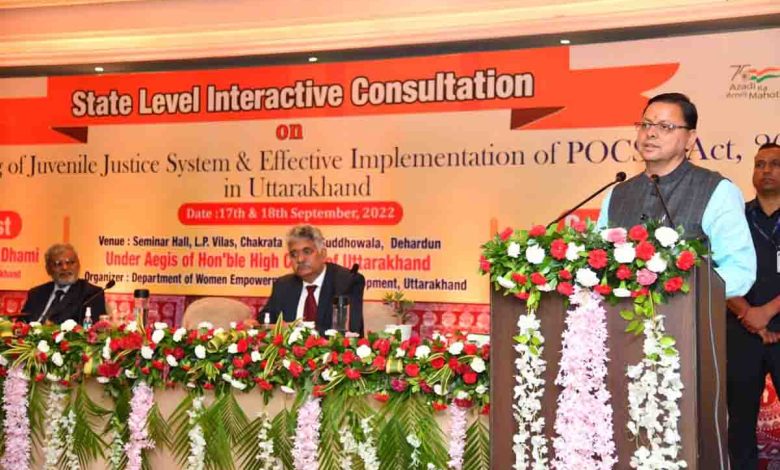 Sunday, 18 September 2022 | PNS | DEHRADUN
Chief minister Pushkar Singh Dhami participated in the 'State level interactive consultation programme organised at Suddhowala on Saturday. The two-day programme on strengthening juvenile justice system and effective implementation of Protection of Children from Sexual Offences (POCSO) Act-2012 in Uttarakhand is being organised under the aegis of the department of Women Empowerment and Child Development. The Chief Justice of Uttarakhand High Court, Vipin Sanghi virtually participated in the programme.
Speaking on the occasion, the CM said that the State government would work on the outcome of the two-day deliberations on the POCSO Act and other subjects. Terming the programme as historical as the representatives of judiciary, executive and legislature putting their heads together, the CM said that the deliberations would prove to be a milestone for the children. He said that protecting the interests of the children should be the top priority of everyone. He said that the State government is moving ahead in the direction of implementing the Uniform Civil Code and the committee constituted for preparing the draft of the UCC has invited suggestions from the people.
Dhami said that the State government is working on the mantra of 'simplification, solution, disposal and satisfaction'.
He said that officers have been directed for quick disposal of the public issues. The CM said that the State government is working dedicatedly to make Uttarakhand one of the leading states of the country by the year 2025. He said that everyone should contribute in the wholesome development of Uttarakhand and the development of the State is a collective journey.
Justice SK Mishra, Justice Ravindra Maithani, Justice Alok Verma,
Chairperson of the Uttarakhand Women Commission Kusum Kandwal, the chairperson of the Uttarakhand State Commission for Protection of Child Rights, Dr Geeta Khanna, advocate general SN Babulkar, additional chief secretary Radha Raturi, director general of police Ashok Kumar, registrar general of high court Vivek Bharti, secretary of women empowerment and child development HC Semwal, deputy inspector general of Garhwal, KS Naganyal and district magistrate of Dehradun Sonika attended the programme.