Top Stories
Tehri Lake Festival: CM announces scuba training for 500, Vedic school along Bhagirathi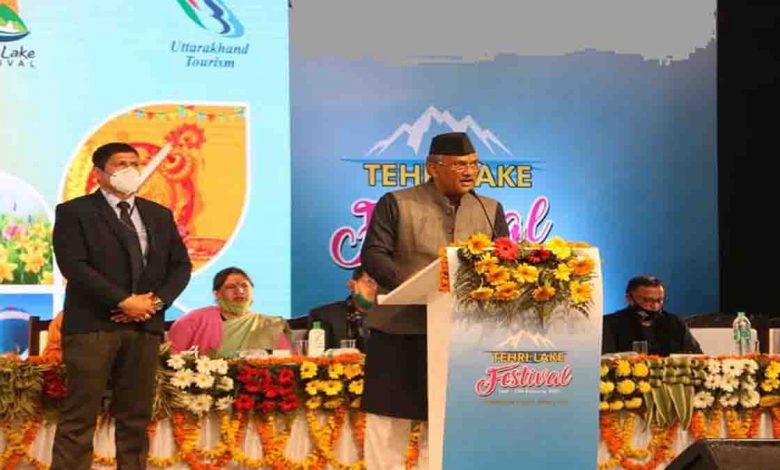 Inaugurating the Tehri lake festival, chief minister Trivendra Singh Rawat announced that an international Vedic school will be opened on the banks of the Bhagirathi river in Tehri. Along with Sanskrit, the students here will also be taught Hindi and English. The CM further announced that the government will train 500 persons in scuba diving while a light and sound show will also be started on the shores of the Tehri lake.
Speaking on the occasion, Rawat said that the future of Uttarakhand is in Tehri. He said, "Earlier, there was no fixed date for the Tehri lake festival. However, now we have issued a gazette notification and now the festival will be held every year on the occasion of Vasant Panchami. Due to the Chamoli disaster, there was confusion regarding the Tehri lake festival but we decided that we will fight the disaster and also move forward. I pray to lords Badrinath and Kedarnath to grant peace to the souls of those who lost their lives in the disaster."
He further recalled that Pratapnagar residents had experienced considerable inconvenience. Now the government has provided the motorable Dobra-Chanthi bridge to resolve their problems while also benefiting tourists and residents of Uttarkashi. He said that business and tourism has reached saturation in Mussoorie. Considering this, the government is developing Tehri so that tourists stay here and enjoy this place. Work is underway to develop New Tehri at a cost of Rs 1,210 crore. Rawat further said that an adventure wing had been formed to encourage adventure sports in the state. As a result, adventure sports activities are being organised successfully in Bhimtal, Almora, Satpuli and Tehri. The CM expressed confidence that Uttarakhand will develop into a tourism hub.
Agriculture minister Subodh Uniyal said that many people are getting employment due to the Tehri lake festival. The possibilities for water sports in Tehri are not found anywhere else in India, he said, while adding that the Tehri dam reservoir will develop into an international destination.
Paragliding, parasailing, scuba diving, kayaking, canoeing, hot air ballooning, rock climbing and all terrain biking among other such activities will be held during the lake festival. Considering the Atmanirbhar Bharat initiative, stalls for products of women self help groups, handicrafts, Hilans outlet, forest department products and organic products among other items.
State minister for cooperatives, Dhan Singh Rawat, MLA Dhan Singh Negi, district Panchayat head Sona Sajwan, Tourism secretary Dilip Jawalkar, Tehri district magistrate Iva Ashish Srivastava and others were also present on the occasion 
Wednesday, 17 February 2021 | PNS | Dehradun