Education
Teachers should update themselves with new technology: Dangwal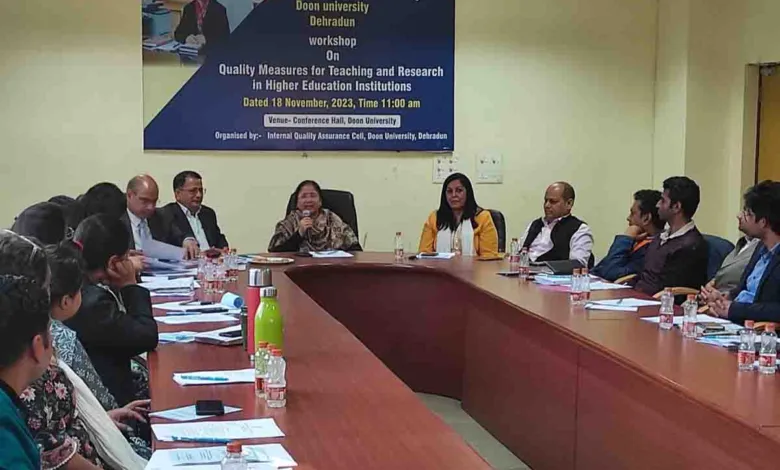 Tuesday, 21 November 2023 | PNS | DEHRADUN
A one-day workshop on quality measures for teaching and research in higher educational institutions was organised by the Internal Quality Cell (IQC) of Doon University on Monday.
In the workshop experts emphasised on the need for maintaining high quality measures for teaching and research in higher education institutions, innovations and keeping with the spirit of the National Education Policy (NEP)- 2020 while making optimum use of new information communication technologies.
Addressing the workshop, the university vice chancellor Surekha Dangwal said that the dedication and commitment of teachers is important in the development of any educational institution. She said that a teacher is called a nation builder because it is under his guidance and supervision that the future society and the nation develop. "Therefore, there is a need that in the modern technological era, teachers should continuously develop their knowledge and skills and make students aware of various aspects of new techniques and technology every day so that study can become interesting and for this we will have to acquaint ourselves with these new technologies,'' Dangwal said.
The university registrar MS Mandrawal said that the university is always conscious and striving towards creating a good environment for the quality of education and research and this workshop is a part of that process.
Dean, School of Social Sciences, professor RP Mamgain emphasised on developing work culture and continuous lifelong learning and training among faculty.
Dean of the School of Management, HC Purohit said that teachers had been the role models of the society since time immemorial. Highlighting the emerging challenges for teaching and research in the times of social media, professor Harsh Dobhal of School of Media and Communication Studies emphasised that in the times of social media and with the introduction of online teaching and digital content a new set of challenges have emerged.