Others
Swadeshi Swarozgar Deepawali Mela starts in MCD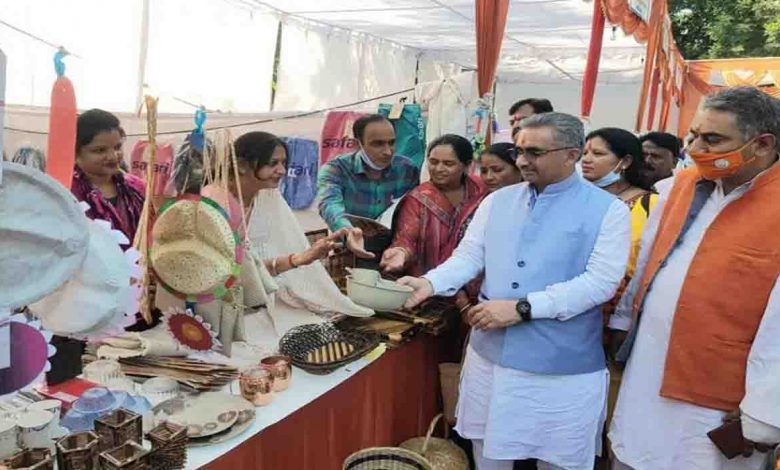 Saturday, 30 October 2021 | PNS | Dehradun
A five-day Swadeshi Swarozgar Deepawali Mela has started on the premises of the Municipal Corporation of Dehradun (MCD) on Friday. The mayor Sunil Uniyal 'Gama' inaugurated the fair and appreciated the products displayed in the fair.
A total of 58 women Self Help Groups (SHGs) have set up their stalls with locally made and produced products. 'Gama' said that this fair is being organised under Deen Dayal Antyodaya Yojana-National Urban Livelihoods Mission (DAY-NULM) since the last year to promote the concept of vocal for local in the city.
This fair is an attempt to encourage and support the women of these SHGs who earn their livelihood by making and selling such products, added the mayor. Many SHGs have set up stalls with products prepared from bamboo, cow dung, dried flowers from temples, and recycled cloth. Others were also selling local food, pulses and clothes too. 
Tripti Thapa from Swadesh Kutumb Swayam Sahayta Samuh said that women in her organisation make products like Diyas, incense sticks, idols using cow dung and she expects that people will like their products. She said, "Our all products are eco-friendly. We have also prepared cow dung logs which, I think, will be prominently used as fuel. I hope people visit the fair before this Deepawali and get to know more about our products."
The mayor also appealed to the people to visit the fair and asked them to contribute to the vocal for local campaign in Dehradun.