Crime
STF nabs four accused from Patna for scamming Rishikesh resident of Rs 35.4 lakh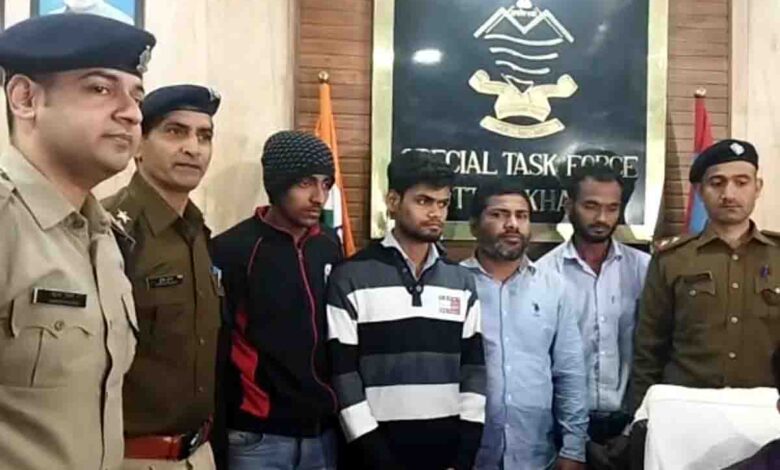 Friday, 24 March 2023 | PNS | DEHRADUN
The Uttarakhand Special Task Force (STF) has arrested four cyber crime accused from Patna for allegedly duping a man in Dehradun of Rs 35.4 lakh in the name of providing franchises of famous fast food restaurants like McDonald's and KFC. The accused are two 19-year-old youth Sunny Kumar and Chandan Kumar, a 21-year-old Sunny Kumar Verma and a 34-year-old Suraj Kumar, all belonging to Patna, Bihar.
The gang has allegedly duped several people across the country and a total of 90 complaints of such scams are registered against them, said the senior superintendent of police of STF, Ayush Agrawal. In a Press conference here on Thursday, he said that a man belonging to Rishikesh registered a complaint against unknown men who duped him of over Rs 35 lakh in the name of providing him franchise of McDonald's.
According to him, he searched online to get information about getting a franchise of McDonald's and came across a website www.mcdonaldspartner.com where he applied to get the franchise. "After this, he received a call from a man who introduced himself as a customer relationship manager at McDonald's and informed him about his application being approved. Another man called him, calling himself head of the company's verification team, and asked him to deposit Rs 35.40 lakh through email as registration fee, license and NOC fees among other charges.
The victim deposited the money and after he got suspicious, he filed a complaint to the cyber cell," said the SSP. He said that a preliminary investigation of STF revealed that the gang has duped several people across the country by creating such fake websites of famous restaurant chains. The evidence gathered through mobile numbers and a bank account number used by the accused to scam the victim revealed the location of the accused in Patna. A team was sent there to nab the four accused who were arrested and brought to Dehradun on Wednesday, said Agrawal.
The STF also seized their bank account which had Rs 6.5 lakh. He also appealed to the citizens to verify the background of each agency thoroughly before making any online transaction for any purpose. In case one gets scammed, immediately register a complaint as it increases the chances of nabbing the accused and recovering the money, added the SSP.