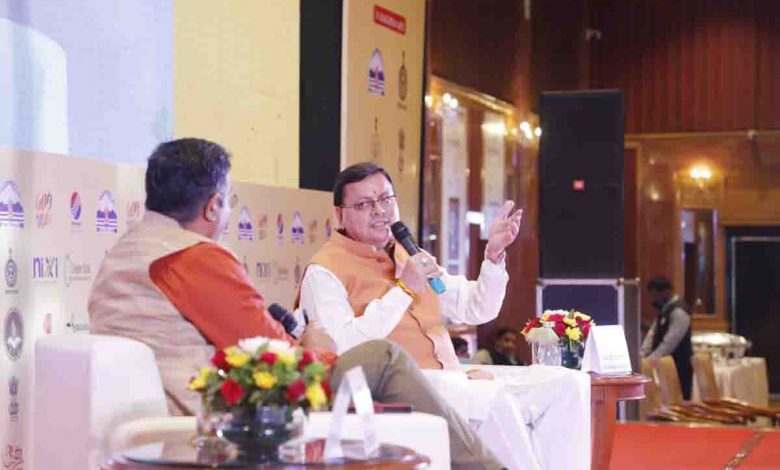 Monday, 23 May 2022 | PNS | Dehradun
The Uttarakhand government is working towards making the anti-conversion law stricter. Chief minister Pushkar Singh Dhami said this while speaking at a media conclave in Delhi on Sunday. He spoke on various political and strategic issues of the State on the occasion. Speaking on the law and order situation in the State, he said that the Uttarakhand police is taking strict action against those breaking the law. There is no place for criminals in the State, he stressed. Dhami said that after he took oath of office as the chief minister for the second time, the State police started a special re-verification drive to ascertain the background of people living in the State.
Regarding the uniform civil code promised by him before the Assembly elections, Dhami said that a committee is going to be formed to prepare the draft for the uniform civil code for Uttarakhand. He said that other states should also implement uniform civil code. Replying to questions regarding land laws in the state, the chief minister said that the state government has formed a high level committee for this purpose. The government will bring a law on this soon in the interests of the state, he added. "The geographic conditions in Uttarakhand are very different from those in other states. Most of our geographical area is mountainous. The government is attempting to ensure that there is focus on industrial expansion and employment also," he said.
The chief minister further averred that Uttarakhand is making all-round progress under the leadership of Prime Minister Narendra Modi. The endeavour of the government is to make Uttarakhand among the best states in all spheres in the coming times. He also referred to the state being a centre of spirituality, religion and culture adding that it is common for at least one person from each family joining the armed forces to serve the nation.