Breaking News
State Govt working to develop U'khand as envisioned by PM Modi- Dhami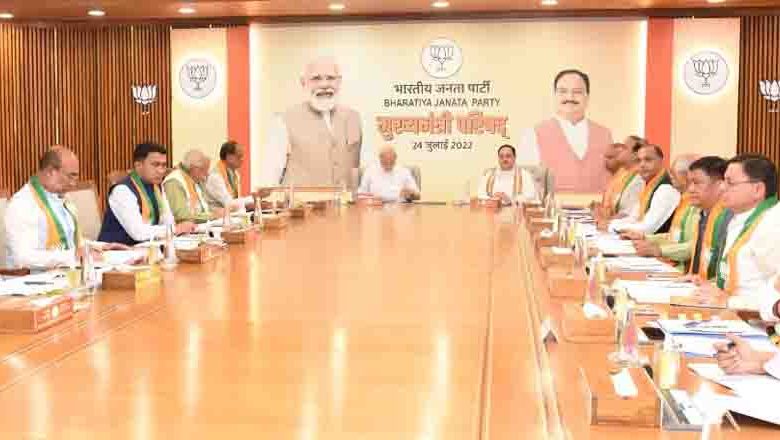 Monday, 25 July 2022 | PNS | Dehradun
Chief minister Pushkar Singh Dhami said that the State government is consistently working to develop Uttarakhand as envisioned by Prime Minister Narendra Modi. Dhami said this while attending the meeting of the chief ministers of BJP-ruled States presided over by PM Modi.
Dhami said that Uttarakhand @ 2025 and @ 2030 vision documents are being prepared to fulfil the dream of making this Uttarakhand's decade. He said that the plan is to achieve a 15 annual growth rate in the Gross Domestic Product of the State to double it in the next five years. He spoke in detail about the development works executed in the State and the vision for the future. The CM said that to execute the vision plan, the capital expenditure for this financial year has been increased from 13 per cent to 17 per cent compared to last year. To strengthen the pace of the State's economy, Rs 25,000 crore through external assistance will be used to develop basic infrastructure in the next five years. To ensure better coordination between departments and accurate planning for projects, State Gati Shakti masterplan is being prepared on the lines of the PM Gati Shakti Yojana. The State government has set a target of preparing this ambitious plan in the next six months, he said. The ambitious economic targets of the vision plan will be achieved through the thrust sectors- tourism, transport, service sector, agriculture and horticulture, and pharmaceuticals.
Dhami said that through implementation of various employment-oriented schemes more than Rs 600 crore private investment has been attracted and more than one lakh new employment opportunities have been created so far. Uttarakhand is among the leading States of India with creation and efficient management of schemes like one district-one product, women entrepreneurship encouragement scheme and start-up policy. About 10 per cent of the nation's total start-ups are based in Uttarakhand. The CM further spoke in detail about the works done and plans for development in the tourism sector. Dhami said, "Despite its limited resources, Uttarakhand focused on exports and exported goods worth Rs 17,000 crore last year in which the pharmaceutical sector has a special contribution. During the Russia-Ukraine conflict, Uttarakhand exported its traditional foodgrains like Mandua and Jhangora to Europe." He further informed that consistent progress is being made in the Amrit Sarovar scheme. Out of the target of 1,240 such reservoirs in 13 districts, work has been started on 939 under the Amrit Sarovar Yojana. Dhami also spoke about the works done through rural business incubator and growth centres along with the various works and welfare schemes implemented in the agriculture sector. He said that 47 lakh cards have been made so far under the Ayushman Yojana in Uttarakhand which is 2.5 times higher than the national average. Referring to the ongoing Char Dham Yatra, he said that about 28 lakh people had undertaken the pilgrimage so far this year.