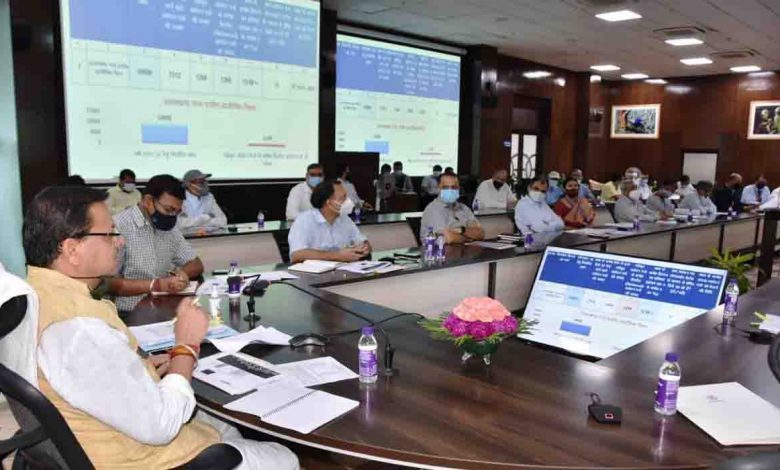 Friday, 06 August 2021 | PNS | Dehradun
The chief minister Pushkar Singh Dhami has said that self employment holds the key for prosperity and fulfilment of the objective of Atmanirbhar Bharat.  He reviewed various schemes related to self employment of different departments at the state secretariat on Thursday.
The CM said that coordination with the bankers should be ensured so that people should not have any problem taking loans from banks. He said Chief Development Officers (CDO) concerned should be made nodal officers for the purpose. Dhami directed the officers to hold special camps in every district from September 1 to 15 for promoting self employment. The district level officers in coordination with bank officers would ensure prompt approval of the loans.
On a terse note, the CM said that people should not be forced to make rounds of the offices for loans and the schemes should reach the last person standing on the social ladder. He said that mantras of Atmanirbhar Bharat and Vocal for Local given by Prime Minister Narendra Modi hold the key for prosperity. He said that platform and market should be made available for the young entrepreneurs and emphasis should be on ensuring quality of the products.
The CM also gave targets for generating self employment to different departments. He said that the rural development department should generate 10,000, social development 1,500, urban development 26,000, industries 4,500 and tourism 500 self employment opportunities. Dhami suggested that the department should create success stories so that more and more people are made aware.
Speaking on the occasion, the chief secretary S S Sandhu said that the different departments should work on a portal based approach for increasing the pace of activities.
The additional chief secretary Anand Bardhan and other officers were also present on the occasion.