Breaking News
Rs 3.72 crore distributed to 301 affected families as interim relief in Joshimath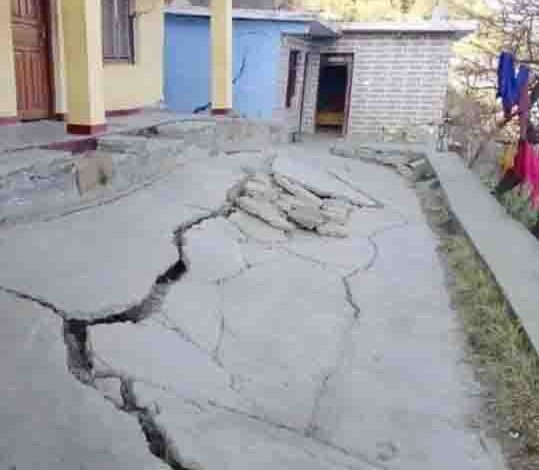 Helping affected people akin to serving humanity, says CM
Wednesday, 25 January 2023 | PNS | DEHRADUN
The Disaster Management secretary Ranjit Kumar Sinha said that an amount of Rs 3.72 crore has been distributed to 301 affected families as interim relief in Joshimath so far. He said that the initial discharge of water in Joshimath which was 540 litres per minute (LPM) on January 6 has reduced to 182 LPM at present. Meanwhile chief minister Pushkar Singh Dhami said that helping the affecting people at this time is serving humanity.
Sinha said that in the temporary relief camps, Joshimath has a total of 661 rooms with a capacity of 2,957 people and Pipalkoti has 491 rooms with a capacity of 2,205 people. Till now cracks have been reported in 863 buildings. Further, 947 members of 282 families have been temporarily displaced in view of security.
Meanwhile, Emaar India CEO Kalyan Chakrabarti met chief minister Pushkar Singh Dhami and said that his company will construct upto 150 pre fabricated huts for the affected people of Joshimath. Appealing all to become involved in assisting the affected people of Joshimath, Dhami said that helping people in such a situation is service to humanity. The CM reiterated that the State government's first priority is to provide all possible help to the affected people in Joshimath. Officials have been directed to ensure that they do not face any inconvenience and that their issues are resolved swiftly. He said that the all the relevant institutions of the Central and State governments are involved in geological tests and other works in Joshimath and that soon work will be done on a concrete work plan it the area. Efforts are also being undertaken for permanent solution to the issues of rehabilitating the affected people.
Later, while interacting informally with media persons, the CM said that this is the time to help the affected and not play politics on the Joshimath situation. Prime Minister Narendra Modi is regularly seeking information about works being undertaken in the area while the State government is also attempting to provide all possible assistance to the affected. Dhami said that misinformation is being spread about Joshimath, which is not right. About 70 per cent shops are open in the area and all important activities are continuing normally in the area. Personnel of the National Disaster Relief Force and State Disaster Relief Force are deployed to help the people.