Sports
River rafting & kayaking activities launched in Bhagirathi at Harsil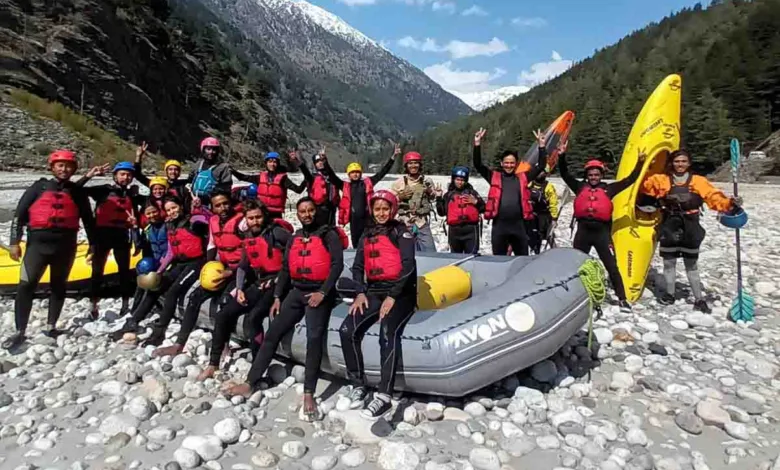 Thursday, 11 May 2023 | PNS | DEHRADUN
The State tourism minister Satpal Maharaj has said that the state government has started river rafting activities in rivers other than Ganga. This would open up new avenues of tourism-related employment for the local youth, he said, adding that the pilgrims and tourists for Gangotri would now experience the joy of river rafting in Bhagirathi River near Harsil.
The State tourism secretary Sachin Kurve said that though Uttarakhand is famous for river rafting activities it remained confined to Ganga only. "However, the other rivers of the State are endowed with immense potential in this matter. People from across the world love to enjoy river rafting and white water kayaking in the rivers of this State," he said.
He further said that Uttarakhand Tourism Development Board (UTDB) has started river rafting and kayaking activities in Bhagirathi River at the famous tourist place Harsil and it would be 15 km downstream from Harsil. "Now Bhagirathi River will be projected as the international destination for these activities and for this, a license has been given to a river rafting/kayaking company to start these activities from Harsil," he said.
The additional chief executive officer, UTDB (adventure) Ashwini Pundir said that the license-holding company has for the first time successfully conducted river rafting activities with tourists and locals in Bhagirathi river on Wednesday. He further said that efforts are being made to involve the local youths in conducting adventure tourism activities. "They will be given licenses for this purpose and this will help them earn money," he added.
The minister said that in accordance with the sentiment of the State government and the chief minister, river rafting activities would be started in other rivers besides Bhagirathi after the report of the technical committee is received.