Breaking News
Rescuers working round the clock, stranded workers stable in tunnel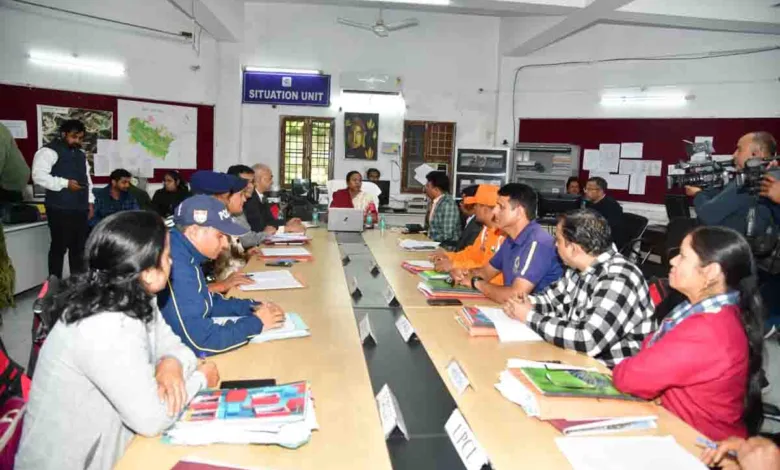 Saturday, 18 November 2023 | PNS | DEHRADUN
The operation to rescue the 40 workers stranded in the Silkyara tunnel since November 12 is continuing round the clock. The workers are in a stable condition with oxygen, food, drinking water and electricity being provided to them. Officials said this in a meeting chaired by additional chief secretary Radha Raturi to check the status of the rescue operation on Friday.
Chairing the meeting in the disaster control room at the secretariat on the instructions of chief minister Pushkar Singh Dhami, Raturi inquired about the updated status of the ongoing rescue operation in Silkyara and the well-being of the workers trapped in the tunnel. She was informed that excavation with shotcreting for 40 metre stretch of the collapsed tunnel is under progress. A team of geological and technical experts are also visiting the site periodically.
The focus of the rescuers is on pushing 900 mm diameter steel pipes with the help of hydraulic jack to evacuate the workers trapped inside. A 22-metre stretch of pipes had been pushed till the evening with the fifth had also been positioned. The progress of the work is being monitored by experts, officials said.
Raturi said that CM Dhami has instructed that all the necessary cooperation and assistance should be provided timely by the administration and officials to all the technical agencies engaged in rescue operations. The CM is constantly taking updates from the agencies engaged in rescue operations and the Uttarkashi district magistrate while also being in touch with the Garhwal commissioner and Garhwal inspector general of police. The rescue operation is also being continuously monitored from the Central Government level and the State Government is getting full support, the officials added.