Spirituality
Religious fervour, enthusiasm marks Mahashivratri festival in U'khand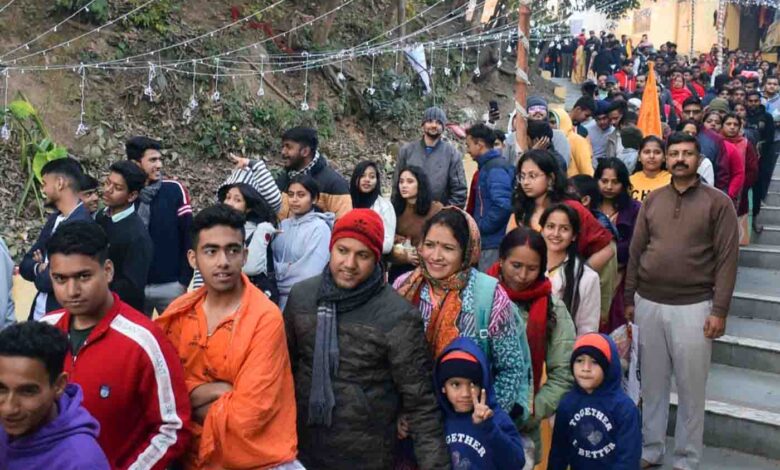 Sunday, 19 February 2023 | PNS | DEHRADUN
The festival of Mahashivratri was celebrated with religious fervour and enthusiasm in different temples of the State on Saturday. The devotees thronged the temples in different parts of the provisional capital Dehradun on the day. Serpentine queues were witnessed at the famous Tapkeshwar Mahadev temple located in Garhi cantt area. The devotees started assembling at the temple at midnight. The ancient Shiv Linga of the temple which is situated in a cave is considered to be more than 6500 years old.
It is believed that the Lord Shiva appeared at this place. Acharya Dronacharya, the teacher of Kauravas and Pandavas and his son Aswasthama also worshipped at this place. The temple derived its name 'Tapkeshwar' as water droplets percolate from the roof of the cave on the Linga. The priests of the temple performed Abhishek of the Shiv Linga with milk amid chanting of hymns. A large fair is also organised outside the temple which attracts a huge crowd. A big crowd of the devotees was also witnessed at Prakasheshwar Mahadev temple located at Kuthal gate on Mussoorie road. At the temple of Sagar Giri Ashram Trust located at Teg Bahadur road the enthusiasm of the devotees was infectious. The devotees waited patiently to offer their prayers.
The temple priest said that Shivratri being the day of matrimony of lord Shiva is of special significance for Hindus. He said that if a devotee pours milk or curd over the Shiv Linga then it brings prosperity similarly if oil is poured then it ensures destruction of one's enemies. Explaining the process of offering the Puja, he said that the devotees should first wash the Shiv Lingas with Panchamrit (mixture of milk, curd, honey, Ghee and jaggery) and then offer their prayers with Bel leaves after which they should take the Prasad.
The Gauri Shankar temple at Balbir road, the Prithvinath Temple at Saharanpur Chowk, Panchayati Temple Karanpur and Raipur also witnessed a big surge in the numbers of devotees during the day.
The district administration had taken adequate security measures outside the temples of Lord Shiva. Devotees also consumed Cannabis (Bhang) on the day as the herb is considered to be a Prasad of Lord Shiva. Stalls owners of Thandai (mixture of milk, dry fruits and Cannabis), Bhang pakoras and bhang bolus did a roaring business on the day.