State
Rawat presented U'khand Shaurya award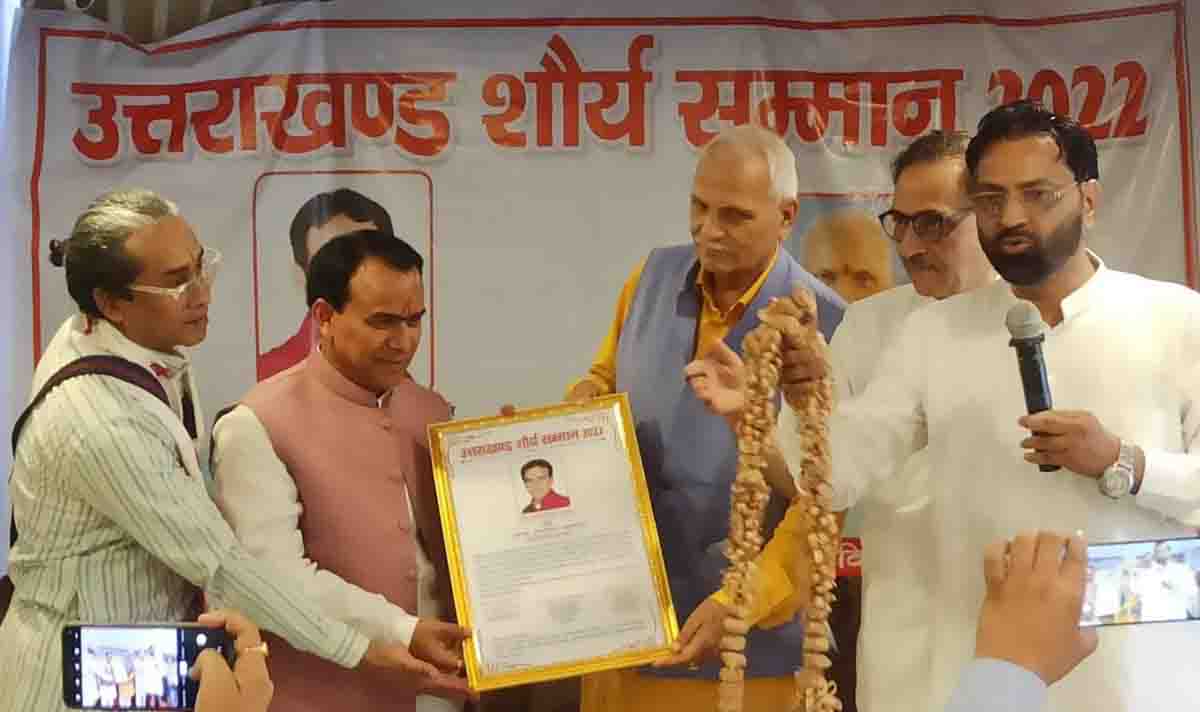 Friday, 10 June 2022 | PNS | Dehradun
The Health and Education minister Dhan Singh Rawat was presented the Uttarakhand Shaurya award on Thursday. He has been awarded for his contribution in bringing innovations in the field of higher education and health services. The award is given by the Uttarakhand Shaurya Abhiyan Samiti and Rawat is the first politician to have received it.
Speaking on the occasion, Rawat said that providing better health services to the last person on the social ladder and spreading education are his priorities. He said that Uttarakhand is the first state where national education policy (NEP) would be implemented from July this year The minister said that more than 7.5 lakh people have so far availed the benefit of Atal Ayushman Uttarakhand Yojana in the state. Under the scheme a free treatment up to Rs five lakh per year can be availed by a family. Rawat said that the state government has started helicopter ambulance service and so far 352 patients have been airlifted from Kedarnath. He expressed gratitude to the committee for honouring him and appreciated its efforts for awarding people working in different sectors.
Member of the committee and former minister Mohan Singh 'Gaonwasi' said that apart from being very popular Rawat remains very active for development related activities. He said that Rawat is the first politician to have been selected for the award. Earlier the committee had honoured Padma award recipients Jagat Singh 'Jangli', Prem Chand Sharma and other personalities.
The director of National Institute for the Empowerment of Persons with Visual Disabilities (NIEPVD) Himanshu Das, vice chancellor of Himalayan University JP Pachori, RUSA advisor MMS Rawat and others were present on the occasion.