Culture
Puja at Kartikeya Swami Temple in Rudraprayag district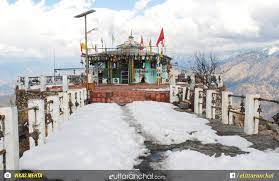 Tuesday, 16 May 2023 | PNS | DEHRADUN
Uttarakhand tourism department organised 108 Balampuri Shankh Puja and Havan programme at Kartikeya Swami Temple located in Kraunch Parvat of Rudraprayag district on Tuesday at the initiative of the State tourism and culture minister Satpal Maharaj. On this occasion, Maharaj, while welcoming the guests from south India who were participating in the programme said that when Kartikeya Swami had reached here after circumambulating the earth, Ganesha was rewarded and this made Kartikeya angry with his mother Parvati and he did penance here. He said that after this, Kartikeya went to south India where he is worshiped as Murgan Swami.
He further said that this is the only temple dedicated to Kartikeya in north India, adding that Agastyamuni's Agastya Rishi temple, Kartikeya Swamy temple and Anasuya temple would be linked to the tourist circuit and developed from the tourism point of view.


Kedarnath MLA Shaila Rani Rawat who was present on the occasion said that this was a historical day as the people of north India and south India have met together.