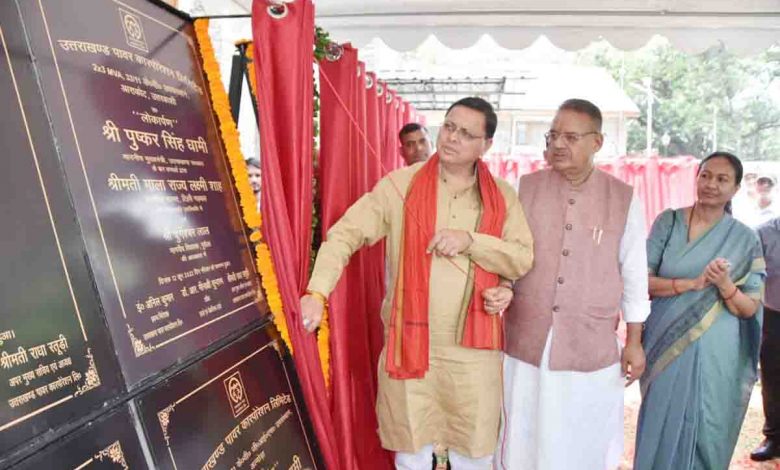 Dhami inaugurates 13 projects of UPCL & PTCUL on Sunday 
Monday, 13 June 2022 | PNS | Dehradun
The chief minister Pushkar Singh Dhami inaugurated 13 projects of Uttarakhand Power Corporation Limited (UPCL) and Power Transmission Corporation of Uttarakhand Limited (PTCUL) at his residence on Sunday. Speaking on the occasion he said that in Uttarakhand there is a vast potential in the power sector and there is a need to work at a fast pace in this sector. He said that many important projects are being dedicated to the people of the state today. Calling for a collective effort to make Uttarakhand a power surplus state, the CM said that the sector constitutes an important source of revenue. He said that the state government is making continuous efforts for expediting work on the hydro power projects in Uttarakhand. The CM said that the power sector would play an important role in achieving the target of Self reliant Uttarakhand. He said that the efforts should be made to reduce the power roistering and where it is done it should be as per the schedule. On a stern note the CM said that strict action should be taken on the complaints of electricity metres and bills. Dhami said that a new work culture has evolved in the country under the leadership of Prime Minister Narendra Modi. He said that the state government is working on a mantra of simplification, solution, disposal and satisfaction. The CM said that the sense of satisfaction would be felt in the heart only when the work is done with total devotion.
The cabinet minister Ganesh Joshi said that many projects have been inaugurated by the CM today and under his able leadership the state government is working on wholesome development of Uttarakhand. The minister added that there is a great potential in the field of solar power and the sector needs to be nurtured. Joshi said that the projects of the power sector should be made while keeping the idea of the mountainous state in the centre.
Out of the projects inaugurated by the CM on the day 13 belonged to UPCL while two were of PTCUL.
The additional chief secretary Radha Raturi, managing director of UPCL and PTCUL Anil Kumar, MD of UJVNL Sandip Singhal, additional secretary Mohammad Iqbal, additional secretary Ranjana Rajguru and others were present on the occasion.