Crime
Police nab one of the dacoits for daylight robbery in home of minister's brother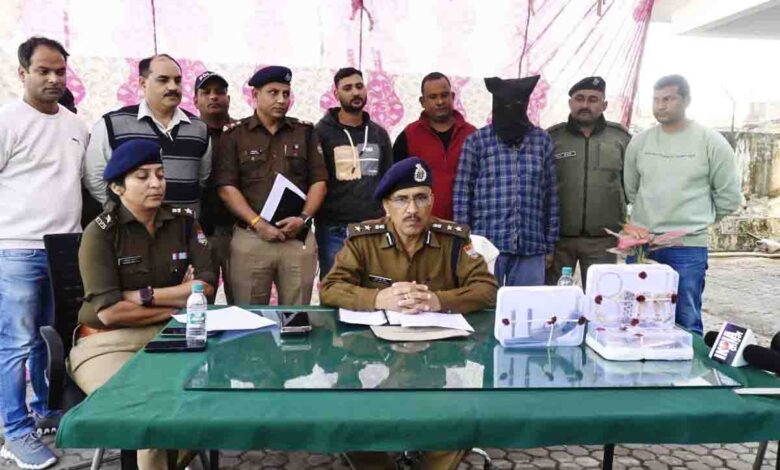 Wednesday, 30 November 2022 | PNS | DEHRADUN
The Dehradun police have arrested one of the main absconding robbers involved in the dacoity at cabinet minister Prem Chand Agarwal's cousin's home in Doiwala in broad daylight on October 15. The police arrested the accused robber Meherban (45) on Monday in Raiwala area during checking when he had arrived from Jaipur to Dehradun to allegedly meet his lawyer to surrender to the authorities.
The Director General of Police (DGP) Ashok Kumar had announced a bounty of Rs one lakh for the absconding robbers last month. The Dehradun senior superintendent of police (SSP) Daleep Singh Kunwar said in a Press conference on Tuesday that the police came to know about several locations where the accused could possibly take shelter considering which police teams were sent to these locations to gather more information on November 26. The police also analysed CCTV footage of these possible locations and some mobile phone numbers associated with them which were gathered by the police during investigation and questioning of already arrested accused.
The SSP said that the police got information during the investigation that one of the accused, Meherban, might be hiding in Jaipur as he had also committed a robbery there in 2013 and had also lived there for some years. Kunwar added that on further investigation the police found out that Meherban was coming to Dehradun by bus on Monday to allegedly meet his lawyer and surrender to the authorities. He said that on the basis of the information, the police team traced and followed the location of the mobile phone of the accused from Jaipur in their private vehicle and he was finally arrested from near Dehradun border Motichur flyover in Raiwala area during checking. He informed that several charges of robberies are also registered against the accused in many States including Uttar Pradesh, Maharashtra and Delhi and he had been arrested in the past too.
The police are gathering more information about his criminal history. The SSP said that the police have arrested seven accused so far in this case and recovered Rs 12,10,000 several pieces of gold and diamond jewellery, three pistols, four live cartridges, a car used to carry out the robbery, one scooty and a motorcycle among other items. The remaining accused will be nabbed soon too, said Kunwar.