Breaking News
PM inaugurates Uttarakhand's first Vande Bharat Express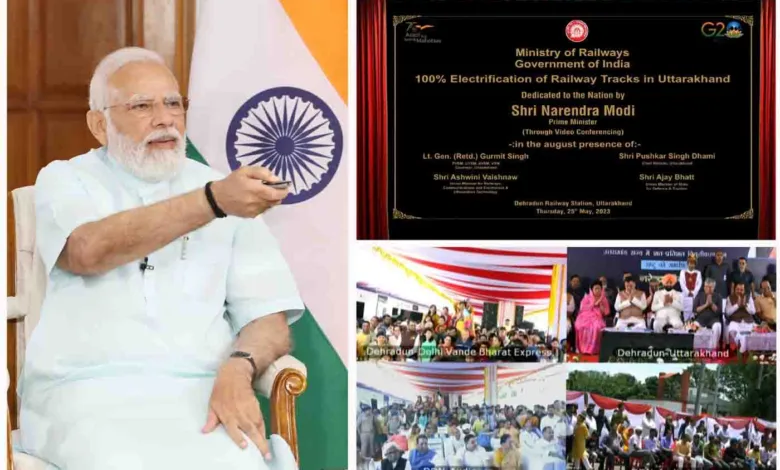 Friday, 26 May 2023 | PNS | DEHRADUN
Prime Minister Narendra Modi virtually flagged off Uttarakhand's first Vande Bharat Express connecting Dehradun with Delhi on Thursday. The Union Railway minister Ashwini Vaishnaw and chief minister Pushkar Singh Dhami were also present at the inaugural ceremony of the train in Dehradun.
The PM said in his address that Vande Bharat will start a new era of comfortable travel experiences, especially for tourists travelling to the State, with world-class amenities. He said that travelling by train remains the first choice for those who are accompanied by their family members and the Vande Bharat is gradually becoming the go-to means of transportation. He also emphasised the importance of connectivity in a mountain state where people from the villages migrate due to a lack of connectivity and added that the government wants to prevent that suffering for the coming generations. "Delhi-Dehradun Vande Bharat Express will ensure ease of travel as well as greater comfort for the citizens.
The country is not going to stop now, the country has now caught its pace. The whole country is moving ahead at the speed of Vande Bharat and will continue to move ahead," said Modi. He said, "Railways is on a quest to completely electrify rail routes in the country and more than 90 per cent of the country's railway network has been electrified. In Uttarakhand, 100 per cent electrification of the entire rail network has been achieved." He also informed that work on Tanakpur- Bageshwar rail line would start soon. He said that the country is being watched with great hope and the world wants to come and see it. "The world wants to come to India to see India and to understand the essence of India. In such a situation, there are excellent opportunities for states like Uttarakhand. Vande Bharat train is also going to help Uttarakhand to take full advantage of this opportunity".
Vaishnaw said on the launch that Railways used to receive a budget of only Rs 187 crore a decade ago for the development of Railways in Uttarakhand but the location rose under pm Modi upto Rs 5,000 crore for development. He said that the PM has an emotional connection with the State. He said that Railways is carrying out various big projects in the State under the PM's guidance. He said that work is underway on the 5G facility, expansion of fibre connectivity and the Rishikesh-Karnprayag rail line which has 104 kilometre long tunnel out of 125 kilometres of total line.
Dhami also expressed his gratitude to the PM and Vaishnaw for giving Vande Bharat to the people of Uttarakhand. According to the Railways, Vande Bharat is equipped with advanced safety features including the Kavach technology that will cover the distance between Dehradun to Delhi in 4.5 hours. It is scheduled to depart from Dehradun at 7 AM and will reach Delhi's Anand Vihar terminal at 11:45 AM. It will depart from Anand Vihar at 05:50 PM and arrive at Dehradun by 10:35 PM, as per railways officials.