Top Stories
PM gave Guru Mantra of success to students: Dhami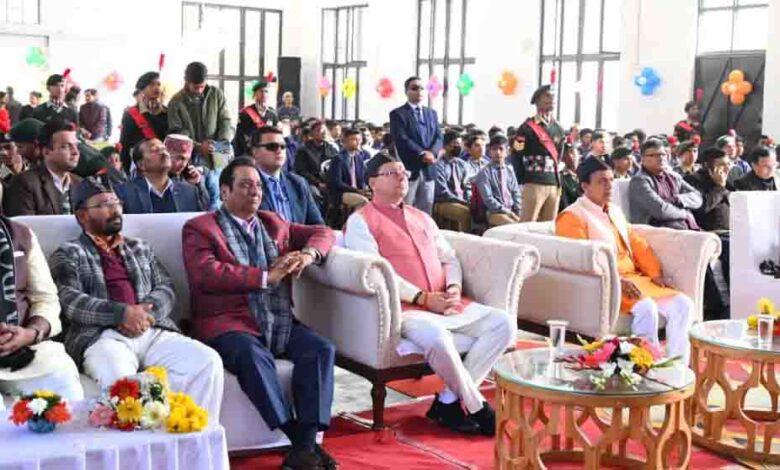 Saturday, 28 January 2023 | PNS | DEHRADUN
Chief minister Pushkar Singh Dhami participated in the Pariksha Pe Charcha 2023 programme of the Prime Minister Narendra Modi at Lakshman Inter College, Pathribagh here on Friday. In the programme the PM interacted with the students, their parents and teachers on examinations from Talkatora indoor stadium. After the programme the CM said that the PM gave guru mantra to students to remain free from tension, on time management, increasing work efficiency and tiding over the challenges in life. He said that inspired by the PM's interaction the students would take the country forward in future. Dhami said that India is the country of youth and we have now entered into the Amrit Kal of freedom. Coming 25 years are going to be very important for our country. The CM said that it is the responsibility of youth to ensure that development of India occurs in every sector. He said that the PM told the students that we can reach dizzy heights by working efficiently in the common conditions as well. We should make proper use of the independent existence and personality given to us by the god.
Dhami met the students of the school and wished them for the upcoming examinations. He told the students that whatever they should do should be done by complete dedication. The CM said that there is no alternative to hard work and asked the students to get acquainted with the inner strength they have. Dhami added that success is bound to come when any work is done with full devotion. He said that one faces many kinds of examinations in life and instead of taking unnecessary stress we should try to overcome the challenges. The CM added that nothing is impossible if we have learned the art of remaining free from stress and time management.
In the programme the Education minister Dhan Singh Rawat, Dharampur MLA Vinod Chamoli, Tharali MLA Bhupal Ram Tamta and others were present.
Cabinet ministers, Members of Parliament, MLAs, mayors, public representatives, students and teachers attended the programme of PM in a virtual manner.