Others
Patanjali will work to clean colonial era education system- Ramdev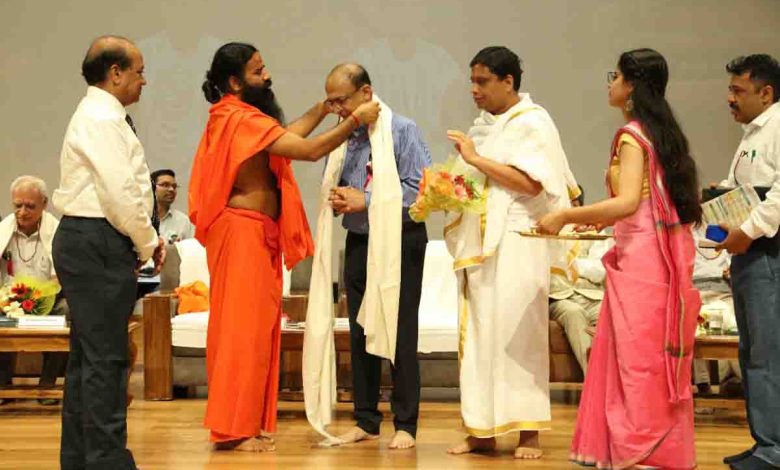 Thursday, 04 August 2022 | PNS | Haridwar
Yoga guru Swami Ramdev said that Prime Minister Narendra Modi had done a historic work by establishing Bharatiya Shiksha Board. Speaking on the third day of the international conference underway at Patanjali on Wednesday, he said that Patanjali is going to do the work of cleaning up the old system of education which was established by the British in 1885. Stating that the minds of the children will also be filled with the culture of the nation, he expressed his gratitude to PM Modi, Home minister Amit Shah, Education minister Dharmendra Pradhan and the State Education minister Dhan Singh Rawat.
Addressing the scientists and other participants at the conference, Ramdev said that Ayurveda is the most ancient science. Patanjali Research Institute has tried to overcome the gaps by getting its evidence-based research published in the world's leading research journals. He described Ayurveda as the most useful method to fight aging, increasing immunity and purification. While addressing the doctors present in the conference, he appreciated the efforts of modern medical scientists.
While releasing the first issue of research journal Yogayu, he gave brief information about a total of 80 international level texts including 51 volumes of the World Pharmaceutical Code prepared by the untiring efforts of scientists.
The chief guest on the occasion, Ministry of AYUSH secretary Vaidya Rajesh Kotecha informed about the establishment of a center of excellence here by the Ministry and Patanjali Yogpeeth.
AIIMS Bhopal president YK Gupta, while highlighting the challenges in healthcare said that the ongoing research in Patanjali will guide the whole world. AIIMS Rishikesh director Meenu Singh said that Patanjali has achieved a great position in the field of evidence-based medicine.National Institute of Cancer Prevention and Research, ICMR director Shalini Singh, while discussing the holistic approach for cancer control, spoke about harmful foods contributing to the development of cancer.
The State's Health and Education minister Dhan Singh Rawat also visited Patanjali and met Ramdev and Acharya Balkrishna.