Breaking News
Order CBI probe in Ankita Bhandari murder case- Congress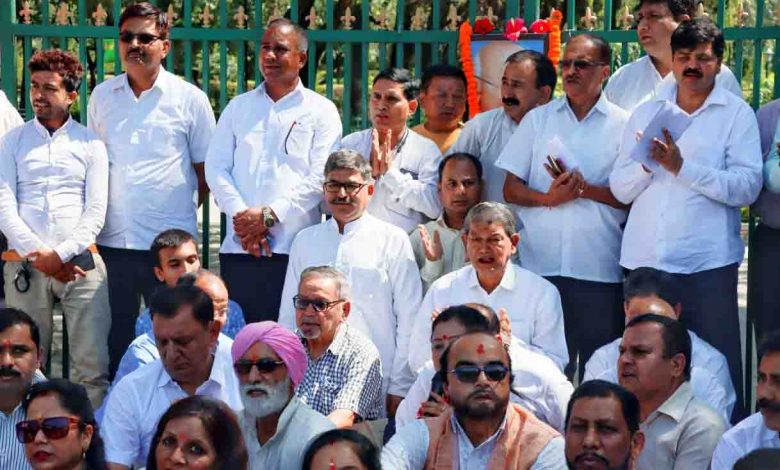 Thursday, 29 September 2022 | PNS | DEHRADUN
Party leaders want the name of the VIP involved in the case to be disclosed
In support of the demand for a Central Bureau of Investigation (CBI) probe in the Ankita Bhandari murder case, the Uttarakhand Congress held a massive protest outside the Gandhi Park here on Wednesday. Hundreds of the workers of the Congress party and top leaders of the party attended the protest. Speaking on the occasion, the former chief minister Harish Rawat said that it is unfortunate that the murderers of Ankita were given enough time to destroy the evidences and one of the important evidences was destroyed by using a bulldozer. He said that a deliberate attempt is being made to take the accused in the police remand. Rawat said that the name of the so-called VIP for whom Ankita was being pressured to act as escort, has not yet been disclosed in the case. He exhorted the Congress party workers to remain prepared for a long battle and asked them to continue putting pressure on the government in the case. Rawat expressed gratitude to Congress leader Rahul Gandhi for lending his support to the demand for justice for Ankita.
The Pradesh Congress Committee (PCC) president Karan Mahara said that the law and order situation in the state has completely deteriorated and the crime against women has increased tremendously under the rule of the BJP government which boasts of 'Beti Bachao, Beti Padhao' rhetoric. He said that the manner in which the evidence was destroyed proves that open patronage is being provided to the criminals by the BJP government. Mahara said that all those involved in the brutal murder of Ankita should be exposed for this a CBI probe should be ordered.
The Leader of Opposition (LoP) Yashpal Arya said that no help has so far been given to the family of Ankita which is very poor. He asserted that the Congress party would hit streets to ensure that justice is delivered to Ankita.
The former president of PCC Ganesh Godiyal said that an attempt to hide the case from the day one was done since the resort belonged to a son of a BJP leader. He said that the revenue police dithered to even register the report in the case and instead of sealing the suspected scene of crime; it was demolished in the dark of the night.
The Uttarakhand Kranti Dal (UKD) leaders Kashi Singh Airy, Pushpesh Tripathi and former IAS officer S S Pangati also attended the protest of the Congress party.
MLA Rajendra Bhandari, MLA Madan Singh Bisht, former MLA Manoj Rawat and others also addressed the protest.