Top Stories
One crore vaccine doses administered in U'khand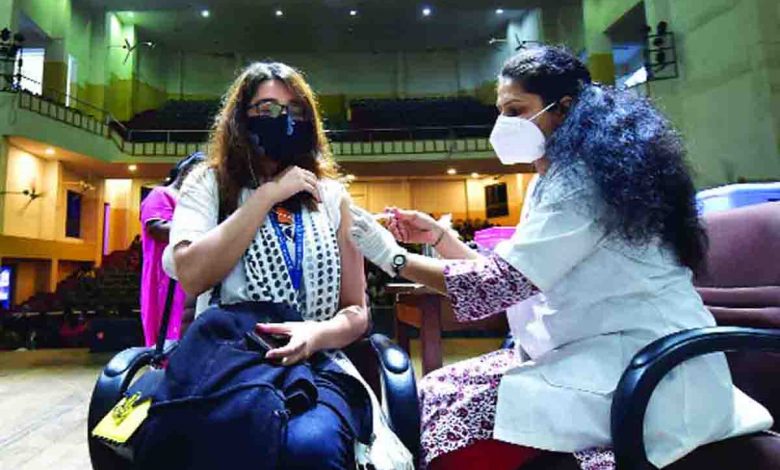 Only 11 new cases of Covid-19 reported on Monday.
Tuesday, 21 September 2021 | PNS | Dehradun
Uttarakhand achieved a milestone in the ongoing battle against the pandemic of Covid-19 when it crossed the mark of administering one crore doses of the vaccine on Monday. The state health department administered 74,572 doses of vaccine on the day in 1077 sessions held in different parts of the state.
As per the data of the state health department 72,42,874 people in the state have received the first dose of vaccine while 27,86,119 have received both doses of the vaccine which means that the department has administered more than one crore doses of the vaccine in the state.
Congratulating the health department for the feat of administering one crore doses of vaccine, the health minister Dhan Singh Rawat said that everyone should get vaccinated without any hesitation.
Expressing happiness at the achievement the founder of Social Development for Communities (SDC) foundation, Anoop Nautiyal said the people should continue adhering to the Covid-19 safety protocols.
Meanwhile the cumulative count of Covid-19 patients in the state increased to 3,43,393 on Monday with the state health department reporting only 11 new cases of the state. A total of 3,29,651 patients have recovered from the disease so far while 7390 people have lost their lives to Covid -19 till date. The recovery percentage from the disease is at 96 while the sample positivity rate on Monday was 0.07 per cent.
The state health department reported two new patients of Covid -19 from Pauri, Pithoragarh, Almora and Chamoli districts on Monday while one Bageshwar, Dehradun and Nainital districts reported one patient of the disease on the day.
No new cases of the disease were reported from Champawat, Haridwar, Rudraprayag, Tehri, Udham Singh Nagar and Uttarkashi districts on Monday.
The state now has 267 active cases of Covid-19. Dehradun with 129 cases is at the top of the table of active cases while Pauri has 30 active cases. Tehri has active cases of the disease.