Others
Nation moving away from false narratives & towards real independence- Trivedi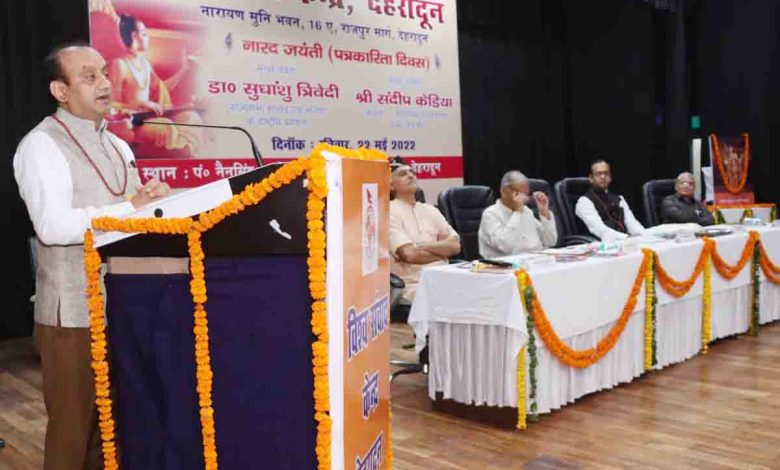 Monday, 23 May 2022 | PNS | Dehradun
Rajya Sabha MP and Bharatiya Janata Party national spokesman Sudhanshu Trivedi said that the nation is moving away from false narratives and is going towards real independence. He said this while speaking at a programme organised by Vishwa Samvad Kendra to mark Narad Jayanti here on Sunday.
Trivedi said that a basic principle of journalism is to acknowledge that one is unaware of something and interested in learning the truth about it. However, some have a preconceived notion about already knowing it all. He said that movies have also played a major role in setting narratives during the past many decades. "A character speaking in pure Hindi was mostly either a comical or villainous character but rarely the hero. Similarly, anyone in a dhoti-kurta or wearing saffron was rarely portrayed as a positive character. Not only this, south Indian and Sikh characters were stereotyped as comic reliefs in movies."
Referring to politics he said that those calling themselves left liberals should name one nation which is communist and also liberal at the same time. "It is ironic that in India, the communists come out in support of Islamic fundamentalists. In communist countries, mosques are destroyed while in Islamic countries communism is not tolerated. It is only in India that these two factions appear to come together."
He said that India had moved towards real independence when Narendra Modi became the Prime Minister. Quoting an article from The Guardian newspaper, he said that this British newspaper had stated that governments before the Modi government had perpetuated colonial systems while with the advent of Modi, the nation would be achieving real independence.
The head of Arogyam Educational Trust, Roorkee, Sandeep Kedia also addressed the gathering. Journalists from print, electronic and digital media were also felicitated on the occasion.