Top Stories
Members of religious fraternity condemn conversion & stone pelting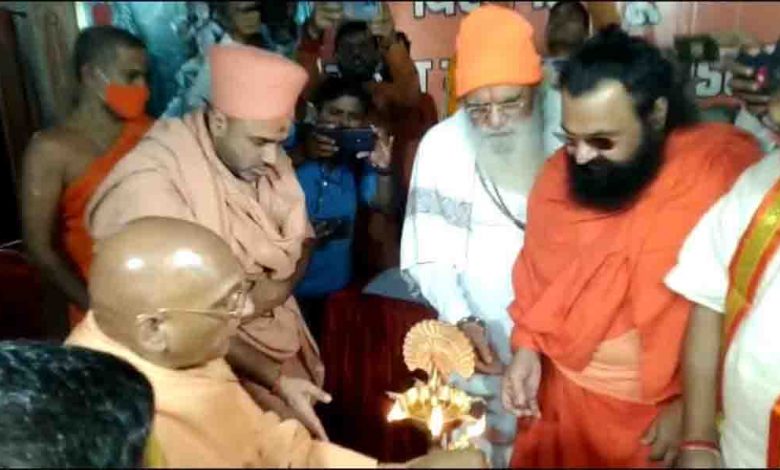 Sadhus in VHP meeting stress on importance of following Indian Constitution
Sunday, 12 June 2022 | PNS | Haridwar
The issues of religious conversion and the violence seen after Friday Namaz in some cities of the nation were among the subjects discussed in detail on the first day of the Vishwa Hindu Parishad's two-day meeting of its Kendriya Margdarshak Mandal here on Saturday. Members of the religious fraternity from across the nation condemned religious conversion and violence while stressing on the importance of following the Constitution of India.
Speaking on the occasion, Juna Peethadheeshwar Acharya Mahamandaleshwar Swami Avdheshanand Giri said that religious conversion takes a person away from his or her basic nature, sensitivities and nature. Nobody's feelings should be hurt, he stressed.
The religious Gurus also unanimously demanded a strict law to check religious conversion. They stressed that while people all have the right to follow the religion of their choice, religious conversion carried out on the basis of greed is not tolerable. Referring to the violence in various Indian cities following Friday Namaz, the members of the religious fraternity opined that violence is not the solution to any problem. Stating that the Constitution is supreme, they said that all citizens must abide by the fundamental duties and rights stated in it. Swami Chindanand Saraswati said that conversion is a crime and violence.Religious conversion by greed or by force is very wrong. He further stressed that the responsibility should be fixed for the violence that took place on Friday.
Expressing her views, Sadhvi Prachi condemned the stone-pelting that took place in some cities on Friday. She also appreciated the manner in which strict legal action was being taken against stone-pelters and rioters in Uttar Pradesh.
Issues ranging from the Gyanvapi mosque case to the need for Uniform Civil Code were also discussed on the first day of the two-day meeting.