Others
Mayor cleans choked drains under cleanliness campaign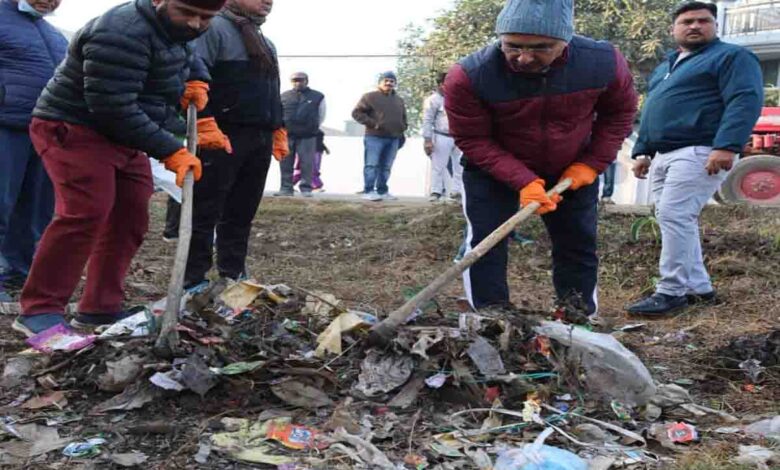 Sunday, 01 January 2023 | PNS | Dehradun
The Dehradun mayor Sunil Uniyal 'Gama' cleaned choked drains of Nathanpur ward on Saturday under his Swacch Ward Sundar Doon campaign. The mayor has been conducting and participating in three-hour cleanliness campaigns every Friday, Saturday and Sunday for the past three months. He carried out sanitation works like sweeping, cleaning garbage from roads, disposing of roadside garbage in garbage collecting vehicles and removal of silt from choked drains. He also cleaned the garbage accumulated through littering in various spots of the ward.
The Doiwala MLA Brij Bhushan Gairola, some locals and sanitation workers also participated in the campaign. Some locals also talked about the issues they've been facing in the ward regarding sanitation, encroachment and others to the mayor. He immediately contacted the officials concerned of the Municipal Corporation of Dehradun (MCD) on the phone and directed them to take appropriate action to resolve issues. He directed them to impose penalties on vendors encroaching the roadside area.
He also directed the officials concerned to take action against the encroachment in the area and impose hefty fines if somebody returns to encroach on the land again. He also appealed to the locals to ensure they maintain cleanliness around them and contact MCD if they face any sanitation-related issues. He said that the MCD aims to get into the top 50 cleanest cities of the country in Swacch Survekshan 2023 which is not possible without citizens' participation. He also directed the sanitation team to ensure all sanitation facilities are being provided in each ward by MCD and agencies deployed to carry out sanitation-related works.