Breaking News
Many programmes organised in U'khand on PM Modi's birthday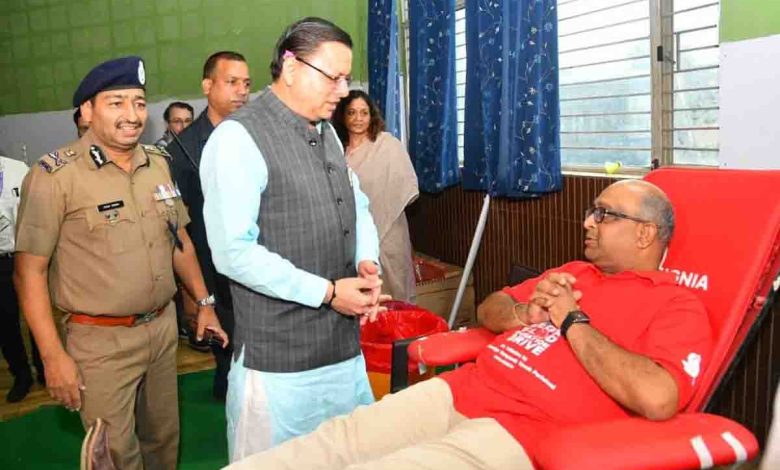 Sunday, 18 September 2022 | PNS | DEHRADUN
On the occasion of the birthday of Prime Minister Narendra Modi many programmes were organised in Uttarakhand on Saturday. To commemorate the day a sanitation campaign was undertaken in Dehradun. Chief minister Pushkar Singh Dhami started the campaign by attending a cleanliness drive outside the residences of the martyrs. Amid rain in the morning, the CM arrived at the residence of martyr Major Chitresh Bisht in Nehru Colony on Saturday morning from where he went to the residence of Major Vibhuti Dhaundiyal at Nashvilla Road. He paid floral tributes to the pictures of the martyrs. Speaking on the occasion he said that the sacrifices of the martyrs can never be forgotten. The CM said that programmes are being organised across the length and breadth of the country on the occasion of the birthday of PM Modi. Dhami said that he has sent birthday greetings to PM Modi on behalf of people of Uttarakhand. He said that India has emerged stronger and has become more prosperous under the leadership of PM Modi and his birthday is being organised as 'Service Fortnight' in all parts of the country. He said that in Uttarakhand sanitation drives, seminars and blood donation camps are being organised under the service fortnight.
Later in the day, the CM attended a blood donation camp organised at police Lines to mark the PM's birthday. In the programme the officers of Uttarakhand police, personnel and general public donated blood. Speaking on the occasion, Dhami said that under the Service Fortnight many programmes would be organised in the State from September 17 to October 2. He said that donation of blood is the biggest and best donation one can make as it saves the lives of people. Dhami exhorted the people to register on e-raktkosh portal for voluntary blood donation. Speaking on the occasion the health minister Dhan Singh Rawat said that the many blood donation camps would be organised in the state till October 2 under the service fortnight. He said that the State has 52 blood banks and to encourage voluntary donation the health department has started the facility of registration in a portal.
The Dehradun mayor Sunil Uniyal 'Gama', the director general of police Ashok Kumar, Health secretary R Rajesh Kumar and others were present on the occasion.