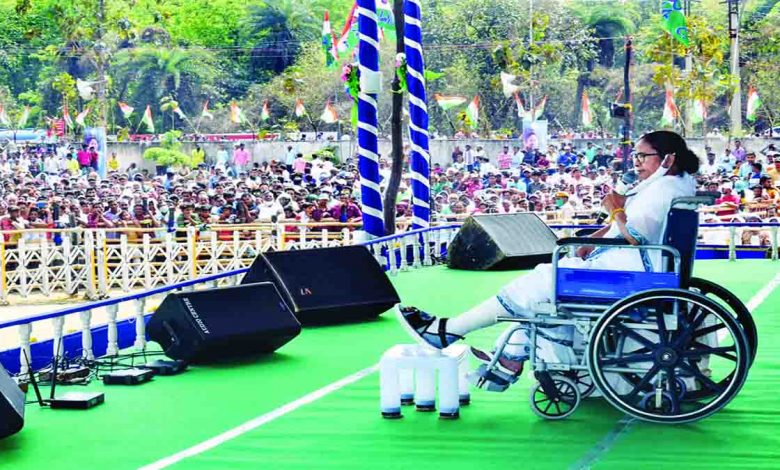 TMC chief alleges Shah influencing EC, threatens to hold indefinite dharna at EC office
Upping the ante, Bengal Chief Minister Mamata Banerjee on Tuesday alleged that Union Home Minister Amit Shah was "conspiring to kill me, rig the elections and capture Bengal," by influencing the Election Commission of India.
Referring to twin developments — the removal of her security in-charge Vivek Sahay, a senior IPS officer of the ADG rank, and an ED notice to State Home Secretary HK Dwivedi in connection with the divestment of Government-owned Metro Dairy at an alleged low price — Mamata said there was a "conspiracy" being hatched by the Home Minister to eliminate her.
"Will the Home Minister run the country or hatch conspiracy to kill me, finish the Trinamool Congress and capture Bengal" by influencing the EC, Mamata claimed in an election rally in Bankura, threatening to hold an indefinite dharna outside the office of the EC if the way things were working did not change.
"Today I heard that my Home Secretary has been issued a notice by a Central agency for appearing as witness, they have also summoned our Minister Partho Chatterjee as witness … will these high officials and politicians discharge their electoral duties or appear before the Central agencies as witnesses," Mamata said in an apparent bid to hammer home the point that the persons concerned had been asked to appear only as witnesses and not otherwise.
The ED sent notices to the Home Secretary and another senior IAS officer in regard to the divestment of Government-owned Metro Dairy in 2017 when 47 per cent of the company's shares were sold out to a private company for an alleged pittance of `87 crore.
The Home Secretary who was Finance Secretary during that period is likely to be questioned regarding the reasons behind such undervalued transfer, sources said.
As for Vivek Sahay, the EC suspended and replaced him with senior IPS officer Gyanwant Singh days after the Chief Minister received injuries in her leg during an election campaign when the crowd pressed too close against the opened doors of her vehicle.
Attacking Shah for the recent developments, Mamata said, "What does he (Shah) think of himself? Just because you cannot gather crowd in your rallies you disturb us by using brute force to shut everything?"
"You don't allow the press to speak. You have shut their mouths," and now "you are controlling the Election Commission and forcing it to take certain decisions," Mamata said, warning, "if this does not stop I will have no hesitation to stage a dharna at the EC with my broken leg."
Alleging that the people and politicians of Bengal were being harassed by the Home Minister, she said, "conspiracies are being hatched to arrest people… warrants are being sent to the participants of farmers' movement in Nandigram… industrialists and Government officials are being summoned and raided… those who took part in Singur and Nandigram movements are getting notices … what is happening?"
Alleging that the Election Commission had lost its independence, Mamata said, "Most respectfully I want to ask the Election Commission as to who is running the Commission? … Is Amit Shah running the Commission or you running it?… We want a free and fair election but why should Amit Shah guide the EC? Who is Amit Shah to interfere in the day-to-day work of the Commission?"
Wednesday, 17 March 2021 | Saugar Sengupta | Kolkata