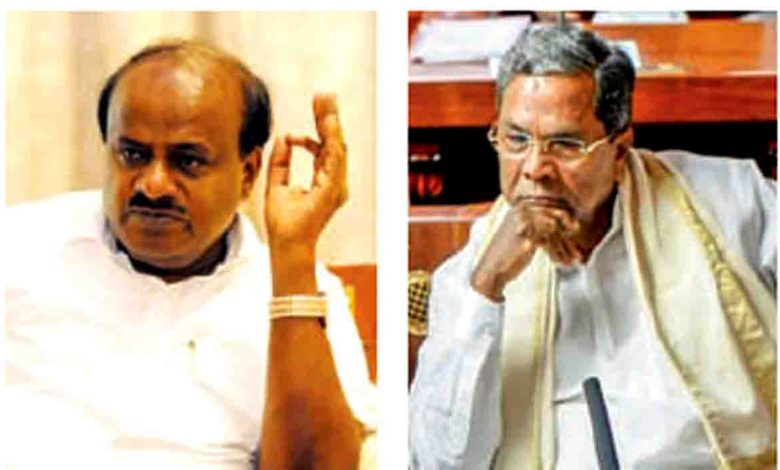 Wednesday, 21 July 2021 | PNS | New Delhi
Pegasus snooped just before JD(S) Govt fell: Report
The third part of the Pegasus telephone snooping report released on Tuesday showed that ahead of the toppling of the Congress-JD(S) Government in Karnataka, telephones of several important leaders of the ruling alliance and their staffers were under surveillance. These include the likes of Deputy Chief Minister G Parameshwara and the personal secretaries of Chief Minister HD Kumaraswamy and former Chief Minister Siddaramaiah.
Former Prime Minister and JD(S) president HD Deve Gowda's security officer Manjunath Muddegowda's phone number was also targeted for snooping. The report published by The Wire portal suggested that the surveillance took place during July 2019, when the BJP was planning to topple HD Kumaraswamy's coalition Government in Karnataka.
The BJP's operation to topple the JD(S)-Congress bore fruit with the defection of 17 MLAs during this period. The report also said that this period also coincides with the selection of a new phone number that Congress leader Rahul Gandhi used after discarding an earlier one he had been operating, and which had been on the list of potential spyware targets since 2018.
"I was surprised to know that Pegasus compromised my phone when I was Deputy Chief Minister and that of Siddaramaiah and the Chief Minister's secretary. The snooping activity by Pegasus is highly condemnable… Without the permission of the Government of India, either the Ministry of Home or the PM's office, they cannot do it. I am sure that the Government is involved. I condemn this… They have misused their power to topple Governments in this country," said Parameshwara.
The phone number of former Congress Chief Minister Siddaramaiah's personal secretary Venkatesh was also added in the same period. Sources close to Siddaramaiah said that the former Chief Minister hasn't been using a personal phone for many years, and relies on his aides for phone conversations. Therefore, the selection of Venkatesh's phone number as a potential target for surveillance in this period assumes immense significance, said the report.
Venkatesh was associated with Siddaramaiah for the three decades.
"I don't know whether my phone was a target for snooping. All I can say is that I don't do anything illegal. If what you are claiming is true, it is wrong and I strongly condemn such an action," said Venkatesh.
Meanwhile, reacting to reports that his number was also in the snooping list, former VHP leader Pravin Togadia said that the Government must investigate and reveal who gave permission to the Israeli company to conduct surveillance in India. He demanded that a three-Judge panel probe the phone tapping incident.
"Unimaginable! Sure that the Government would investigate: First, if Israel's NSO firm's Pegasus snooped into Indian people's phones, then with whose permission? Second, how come international NGO Amnesty International got the data of snooping and the names with phones? Third, what is the guarantee that apart from the mentioned 300 people, many more Indian citizen's phones were not traced by putting their lives in danger? Fourth, if the Government has not done all this, then who did it and why? Until these questions are properly investigated by a three-Judge panel set up by all States, no point in commenting on anybody, but it is very sad what has happened," said Togadia.
French newspaper Le Monde on Monday reported that several Delhi-based diplomats were also on the list of potential targets for phone hacking from 2017-2021.
"The numbers of Pakistan Prime Minister Imran Khan and several of his ambassadors in India appear on the list as potential targets. Dozens of other Delhi-based diplomats and ambassadors are also included, from Iran, Afghanistan, China, Nepal and Saudi Arabia," the report published in Le Monde said, adding that the number of Pakistan's High Commissioner to India was on the list too. The Washington Post reported that Imran Khan did not respond to their request for a comment on the matter.