Sports
Khel Mahakumbh to start on October 2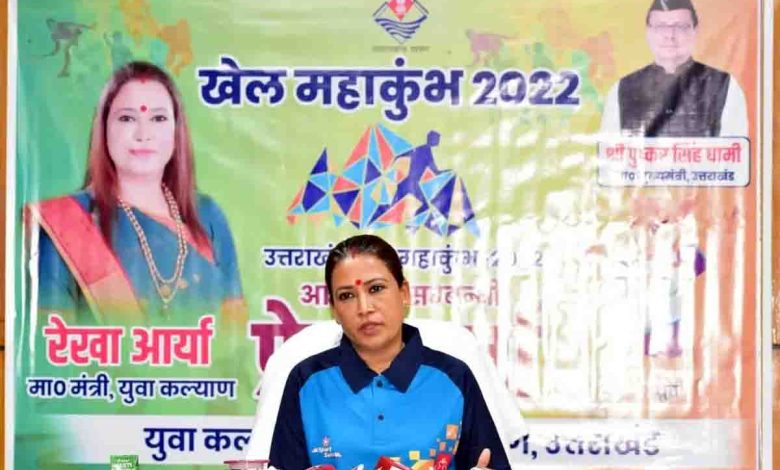 Friday, 23 September 2022 | PNS | DEHRDUN
The Sports minister Rekha Arya said that Khel Mahakumbh will start on October 2 in Uttarakhand and will conclude on January 25, 2023. Over two lakh players are expected to participate in the competition this year.
The government will also organise a pentathlon this year for the players in the 17-21 years age group which would be based on the physical recruitment process of the military, police, home guards and other forces like a 1,600-metre race, long jump, high jump and cricket ball throw. The pentathlon will be organised at district and State level.
Addressing mediapersons on Thursday, Arya said that Khel Mahakumbh will be organided at four levels- Nyay Panchayat, Block, District and State. The competition will be organised at Nyay Panchayat level and block level from October 2 to 15 and October 20 to November 5 respectively. The competition at the district and state levels will be organised from November 9 to November 27 and December 5 to January 25 respectively. Interested players can register for free to participate in this competition. She said that interested players can register themselves through Gram Panchayats, primary schools, junior high schools, secondary schools, inter-college and the local offices under Youth Welfare, Sports or Education departments. The eligible age to participate In the competition at the Nyaya Panchayat level competition is under-14 and under-17 in which players will participate in Kabaddi, Kho-Kho, Volleyball, and other athletics sports. There are three age-based categories to participate in the Block level competition- under-14, under-17 and under-21 and the participants will have more choices to participate in various games like football and badminton too along with the aforementioned games.
The players under the age of 14, 17 and 21 can participate In the district and state level competitions in which players will compete in sports like boxing, judo, karate, taekwondo, table tennis, basketball, hockey and handball. Arya said that the traditional games of the State like Gilli Danda, Murga Jhapat, and Rassa Kassi among others will also be revived this year and presented as show matches in the competition.