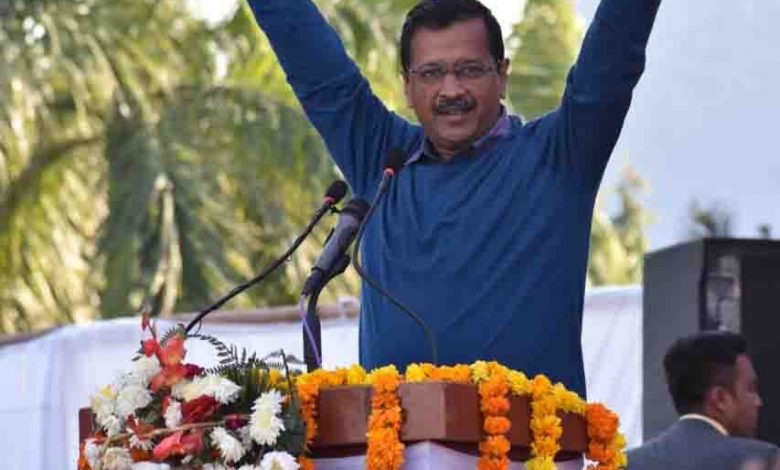 To create six new districts if AAP elected
Tuesday, 14 December 2021 | PNS | Dehradun
The Aam Aadmi Party (AAP) national convener and Delhi chief minister Arvind Kejriwal said that the AAP will declare Ranikhet, Didihat, Kashipur, Kotdwar, Roorkee and Yamunotri as six new districts in Uttarakhand if the party comes to power next year. In an attempt to woo women voters of Uttarakhand ahead of the 2022 assembly elections, Kejriwal also announced to transfer Rs 1,000 every month to the bank account of every woman after winning the elections. He announced this while interacting with local women during his one-day visit to Kashipur on Tuesday.
Addressing women in the event, he said that the successive governments of Congress and BJP in the state have failed to take any concrete steps in the past 21 years for the upliftment of women. He said that the governments here have always tricked people rather than doing any real development work and they never had any plan for the development of the state. He said that women from remote and mountainous areas still have to face hardships on a daily basis due to the lack of basic facilities which the governments here have failed to provide the past two decades.
Announcing his fourth guarantee on his fifth visit to the state this year, he said that AAP is elected to office next year, every woman aged above 18 years will receive a monthly amount of Rs 1,000. He said, "It does not matter how many women a family has. Each of them will receive Rs 1,000 in their bank account. We will focus on eliminating the persistent corruption in the departments and whatever amount will be saved there- that generally goes to the Swiss bank accounts of the leaders here- will be used to transfer the said amount to bank accounts of the women."  He said that his party would also start welfare schemes for women, especially for those living in remote and mountainous areas. He stated that AAP aims to make women independent. Women should not believe in the political parties that only make false promises to get the votes and must give a chance to AAP this time, stated the Delhi CM.
He said that AAP does not make promises but gives guarantees with the guarantee to fulfill them on winning the elections. Kejriwal later addressed a public meeting at Ramleela Maidan. He said that considering public demands, the AAP will declare Ranikhet, Didihat, Kashipur, Roorkee, Kotdwar and Yamunotri as districts within one month of forming the government in the state. The chief ministerial candidate of the party, Ajay Kothiyal, state in-charge Dinesh Mohaniya and state president of election campaign committee Deepak Bali were also present at the event. After the event, Kejriwal departed for Delhi at 6 PM.