Breaking News
Issue of permanent employees becomes tricky for VS speaker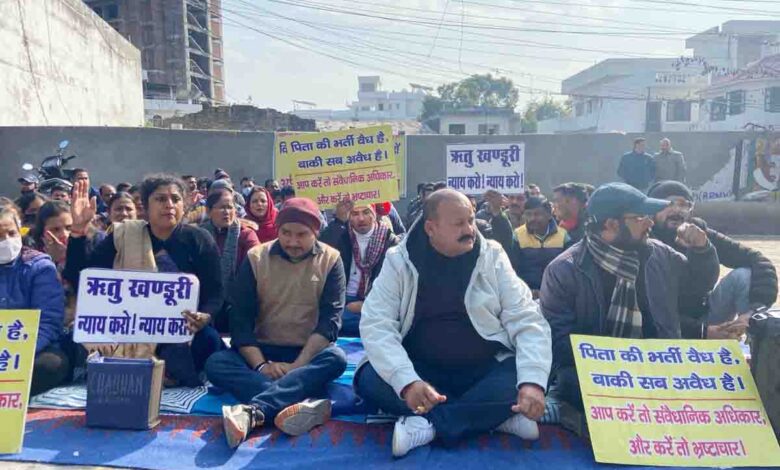 Wednesday, 25 January 2023 | PNS | DEHRADUN
The issue of the employees appointed prior to the year 2016 in the secretariat of Uttarakhand Vidhan Sabha has become a tricky subject for the speaker Ritu Khanduri. Her problems seem to have increased with the continued agitation of the terminated employees of the Vidhan Sabha and the refusal of the advocate general to give legal opinion on the issue of the employees appointed from the year 2001 to 2015 in Vidhan Sabha. The advocate general SN Babulkar has said that since the issue of the termination of the employees is pending in the single bench of Uttarakhand High Court, he is not in a position to give any opinion on the subject. He is learnt to have asked the speaker to wait for the decision of the HC on the issue. The response of the advocate general has now brought the contentious issue back to square one and the onus is now on the speaker to act on it.
The terminated employees of the Vidhan Sabha contend that since the employees appointed from the 2001 to 2015 were recruited in the manner similar to them then the speaker should also take similar action on them.
It is pertinent to mention here that the speaker Ritu Khanduri had appointed a three member committee headed by former bureaucrat, DK Kotia in the month of September to investigate the charges of backdoor appointments in Vidhan Sabha secretariat. In its report the committee found that the appointments were made in gross violation of all the norms. It said that the appointments were made in individual applications and no selection committee was set up for making them. Acting on the recommendation of the committee, the speaker on September 23 terminated the services of 228 ad-hoc employees recruited in the years 2016, 2020 and 2021. These appointments were made during the tenure of the then speakers Govind Singh Kunjwal and Prem Chand Agarwal. The removed employees knocked the door of the court to challenge the decision of their termination; however both the Uttarakhand High Court and Supreme Court granted no relief to them. Interestingly the Kotia committee had also found that the appointments prior to 2016 were also made in a similar manner. Since the services of these employees were made permanent during the tenure of Govind Singh Kunjwal, the speaker Khanduri decided to seek legal opinion in their case after which an opinion was sought from the advocate general.