Columns
India's Modi era- remarkable confluence of growth, environment, humanism & social welfare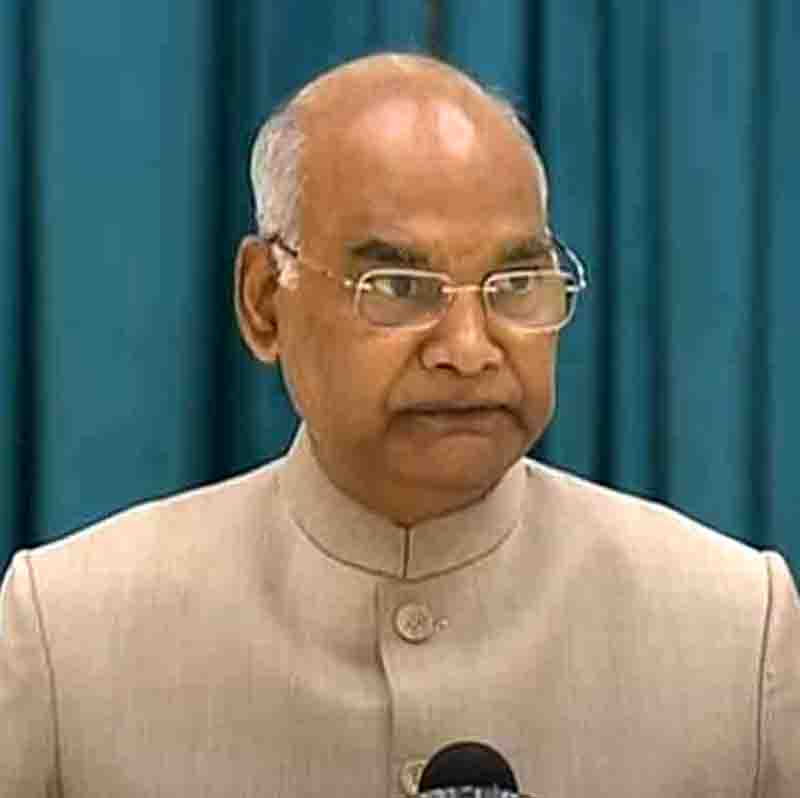 Ram Nath Kovind
The Narendra Modi government has completed nine years in office. During this period there have been revolutionary changes in all sectors as India has continued its growth and development story unhindered. I have been a witness to transformation in India. First as a common citizen, then as a governor and later as the President of the country, and now as an ex-President, I have experienced from very close quarters all the changes our country has undergone during the past nine years.
As a citizen of the country, I have seen India changing, and changing fast. This is being experienced by every citizen of the country. Moreover, the world is awestruck by the revolutionary changes that India has undergone in the past nine years, while several countries are following our footsteps by implementing our success stories. The past nine years have been dedicated to the making of "New India".
It is a matter of great satisfaction and happiness to see India's growing stature and strength in important global forums during the past nine years. This growing aura of India is important because today the world does not want war but peace. At various global platforms, India is leading from the front to propagate peace and harmony, and promote humanitarian ideals. Under the leadership of Prime Minister Narendra Modi, India's voice and opinion matters on all important issues — be it peace and cooperation, ecology and environment, trade and commerce, et al. A glimpse of it we recently witnessed during Prime Minister Narendra Modi's visit to Japan, Australia and Fiji.
The manner in which India is hosting various important G20 meetings, the recent one being conducted successfully in Srinagar, all signifies India's growing influence in the international arena. Apart from Srinagar, the G20 meetings at Ladakh and Arunachal Pradesh also highlight India's philosophy of "Ek Bharat, Shrestha Bharat".
What elates me the most about India's journey in the past nine years is the empowerment of our poor and backward classes, our farmers and villagers, our Dalit and tribal communities, our women and youths. Today India's women power is making its mark in all spheres of life. The world today recognises the prowess of India's youth. The Narendra Modi Government has been deeply committed when it comes to social justice and welfare, and this is because "Sabka Saath, Sabka Vikas" has been the guiding principle of the government's work culture.
During the past nine years, banking facilities have been made available to over 48 crore citizens, electricity has been made available to around 18,000 unelectrified villages and four crore households, over three crore poor have got pukka houses, around 11 crore toilets have been constructed, and over 9.5 crore cooking gas connections have been given to women.
Similarly, over 55 crore Indians have been covered under Ayushman Bharat Yojna, lakhs of villages have been linked via robust optical fibre network, monthly pensions are being given to farmers and labourers, and over 10 crore farmers are being provided cushion through the Kisan Samman Nidhi Yojana. Over 80 crore poor and needy people are being provided free rations. All these are fundamental needs and rights of crores of Indians for which they have waited for decades, and are now being fulfilled by the Narendra Modi government.
Today the beneficiaries of various government DBT schemes are getting money directly into their accounts without falling into the trap of middlemen or commission agents. This has also helped in plugging the leakage of government funds which is now being utilised in various social welfare schemes and programmes. News reports say that through DBT, funds worth over Rs 27 lakh crore have so far been transferred directly into the bank accounts of beneficiaries.
In the past nine years, there has been a considerable hike in the per capita income as well as the income of our farmers. The Narendra Modi government has connected every village across the country by metalled roads. We have also seen massive expansion of our national highways, while corridors of development are being constructed in every state. India has shown remarkable improvement in infrastructure development.
Prime Minister Narendra Modi is not only taking the nation ahead in every sphere of growth and development, he is also rectifying several historical wrongs. He has resolved several highly controversial issues. A grand Ram temple is coming up in Ayodhya, Article 370 has been abolished from Jammu and Kashmir, a decisive battle has been waged against terrorism, and Muslim women have been liberated from the curse of triple talaq.
The last nine years have been dedicated to India's march towards getting rid of colonial legacy and mindset. Race Course Road is now Lok Kalyan Marg, Raj Path is now Kartavya Path, national memorial has finally been dedicated to the nation while a grand statue of Netaji Subhas Chandra Bose now adorns the historic India Gate. The Statue of Unity, the world's tallest statue, has been dedicated to Sardar Patel and his contributions to the nation now inspire crores of Indians.
India is celebrating "Azadi Ka Amrit Mahotsav". We are the world's largest democracy. But the temple of our democracy, Parliament House, was being run from the British era building, which was not even constructed to run as Sansad Bhawan. The necessity for a new Parliament House was felt for many years. As an MP, I too have felt the need for a new Sansad Bhawan. Though the issue was discussed many times, no government took initiative to undertake this important national project.
It was Prime Minister Modi who not only undertook this important and challenging task but also ensured that our new Parliament House gets completed in record time. The entire nation has been a witness to this historical moment. It will contribute to the preservation and promotion of our democratic values and principles. The establishment of "Sengol", a symbol of transfer of power during Independence, in the new Parliament House is also a moment of great pride and honour for every Indian.
The Narendra Modi Government during the past nine years has also converted several challenges into opportunities for our country. During the Corona pandemic, the manner in which the nation stood firmly behind Prime Minister Narendra Modi and defeated the deadly virus, is highly commendable. Despite the pandemic, global economic recession and the Russia-Ukraine war, India's strong economic growth story continued unhindered.
Prime Minister Modi's vision has catapulted India into the league of top five economic superpowers in just nine years. India is also on the path of attaining self-sufficiency in the defence production sector while we have also started exporting defence equipment. The Narendra Modi Government has also given much focus on strengthening our borders. One such important initiative in this direction is the Vibrant Village Programme which is aimed at empowerment of villagers living in border villages.
The past nine years have also seen completion of several key projects which were started with much fanfare by previous governments but could not be completed. There were more than 400 such projects that were started by the previous Congress party governments but were hanging fire for decades. Immediately after taking over the office of Prime Minister, Narendra Modi set up a special task force to review these stalled projects, and we have seen all these projects getting completed during the Narendra Modi government.
I consider the past nine years as the years of hope, aspirations and trust, of which every Indian is proud and happy. The past nine years are also a remarkable confluence of progress, environment, humanism and social welfare. This period has kept the strong foundations of our country's future which will help in achieving the goal of developed India by 2047 when we will complete the century of our Independence. It's time again for us to rededicate ourselves in the service of our nation and take a pledge to put India on the high pedestal of Vishwaguru.
(The author is the former President of India. Views expressed are personal)