Breaking News
India world's biggest democracy due to struggle & sacrifices of activists: Dhami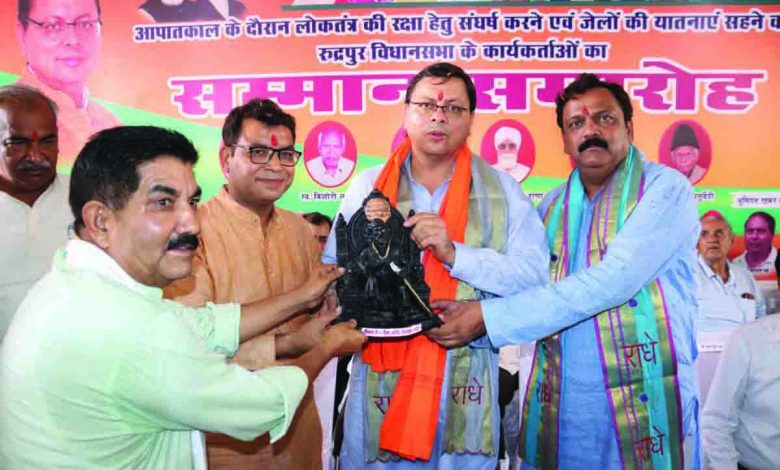 Sunday, 26 June 2022 | PNS | Dehradun
Corruption will not be tolerated, strict action to be taken against the corruption- CM
In the democracy to protect which the democratic activists played a vital role, the law is doing its task. Stating this, chief minister Pushkar Singh Dhami said that the democracy as envisioned by the democracy activists is established in the nation. He further said that strict action will be taken against the corrupt in Uttarakhand. Dhami said this at an event in Rudrapur in which those who struggled for democracy and were jailed during the Emergency were felicitated here on Saturday. A total 27 such persons and their family members were felicitated in the programme held at the Bharatiya Janata Party office here.
Dhami said that during the Emergency, the people of India and youth had said with considerable gusto "vacate the throne, the public is coming". Due to the struggle and sacrifices of democracy activists and their long struggle against the Emergency, the nation is today established as the largest democracy in the world. Dhami said that the BJP and its organisation works on the principle of 'nation first, organisation second'. Prime Minister Narendra Modi has provided a transparent and clean government to the nation. The CM further said that corruption will not be tolerated in Uttarakhand, adding that strict action will be taken against the corrupt in the State. Whether it be officials or employees, those who indulge in corruption will not be spared. If any personnel stalls work without reason and demands bribes, citizens should lodge a complaint regarding the same on 1064.
Stating that the complaint should be genuine, the CM assured that action will be taken on each complaint. He said that complaints received are being put under surveillance while action is being taken on various complaints. He further said that the government is working on the mantra of simplification, solution and disposal.The CM said that officials have been directed to address public grievances in their office from 10 AM to 12 PM on every working day. The works of the public should be done in a transparent and time bound manner, he stressed.Referring to the Agnipath scheme, the CM said that it will bring about a revolutionary change in the nation in the coming times. In Uttarakhand, the Agniveers will be accorded priority in jobs in police, disaster management, Char Dham Yatra and in various departments, added Dhami.