Top Stories
Holiday turns nightmare as landslide kills nine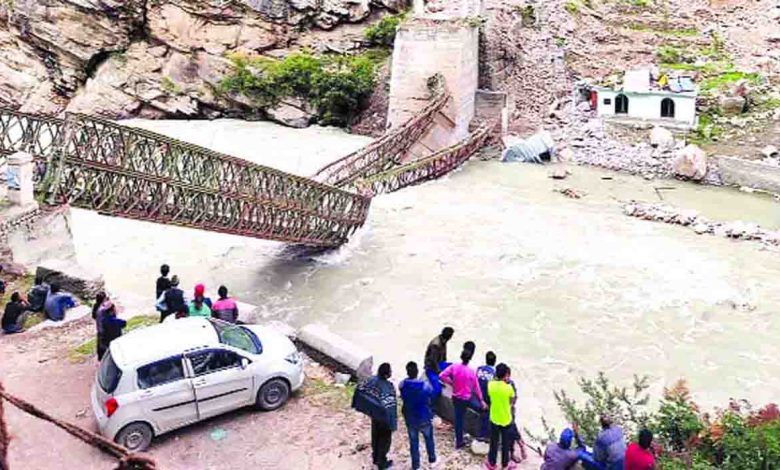 Monday, 26 July 2021 | PNS | Shimla
Three hurt as boulders fall on vehicle in Himachal
Nine tourists were killed and three injured in a massive landslide in Sangla valley in Himachal Pradesh's Kinnaur district on Sunday afternoon.
The incident was reported near Batseri village along the Sangla-Chitkul link road. Tourists from various States were travelling in a Tempo Traveller when heavy boulders fell on it killing nine people, including the driver on the spot. While two tourists escaped death they were hurt in the landslide and another person on the road also got injured.
A terrifying video footage of the landslide showed large chunks of rocks breaking off a mountain top and rolling down into the valley below. The landslide also led to a bridge collapse at Batseri and several roads were also reportedly blocked.
The Prime Minister's Office (PMO) offered condolence over the deaths of the tourists in the landslide. "An ex gratia of `2 lakh each from the Prime Minister's National Relief Fund (PMNRF) would be given to the next of kin of those who lost their lives in the accident in Kinnaur, Himachal Pradesh. `50,000 would be given to the injured," the PMO said.
"All arrangements are being made for the treatment of those injured in the accident. I wish them a speedy recovery," read another tweet from the PMO.
Himachal Pradesh Chief Minister Jai Ram Thakur also expressed deep grief over the death of nine people due to the landslide at Batseri and termed the incident "unfortunate."
He has directed the local administration to ensure immediate relief and rescue operations and to provide relief to the affected.
Those killed in the incident included three persons of a family namely Maya Devi Biyani (55), Anurag Biyani (31) and Richa Biyana (25) from Sikar in Rajasthan, driver Umrab Singh (42) from Delhi, Pratiksha Sunil Patil (27) from Maharashtra, Deepa Sharma (34) from Jaipur, Amogh Bapat (27) and Satish Katakbar (34), both from Chhattisgarh and Kumar Ulhas (37) whose details are being verified.
Those injured have been identified as Shiril Obroy (39) from West Delhi, Naveen Bhardwaj (37) from Mohali in Punjab and Ranjeet Singh (45) from Batseri in Sangla valley.
The incident comes weeks after Himachal Pradesh witnessed flash floods in which at least ten people were killed and several were stranded.
With monsoon wreaking havoc in the State, the tourists have been advised by local authorities not to venture towards destinations prone to accidents.
Notably, Himachal Pradesh Director General of Police Sanjay Kundu had on Saturday issued a warning on his Twitter account asking people not to venture too close to water bodies.
"Himachal Pradesh is blessed with natural beauty which attracts people to rivers, rivulets, lakes and ponds. Be reminded that 156 people lost their lives due to drowning in the 13-month period between January 1, 2020 and January 31, 2021 (sic)," he had tweeted.