State
Health minister launches deworming campaign in U'khand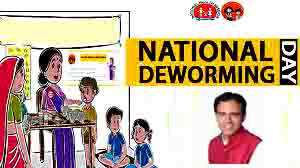 Saturday, 15 October 2022 | PNS | DEHRADUN
43.55 lakh children between one to 19 years of age in the State would be given Albendazole tablets
The campaign to administer the de-worming tablets to more than 43 lakh children in the State started on Friday. The Health minister Dhan Singh Rawat started the deworming campaign by administering the Albendazole drug to the students of the Guru Nanak Public Girls college Premnagar Dehradun.
Speaking on the occasion he said that the future of the country would become bright only when its children are healthy. He said that a total of 43.55 lakh children of one to 19 years of age in the State would be given deworming tablets in the schools and Anganwadi centres. Rawat said that the programme is being undertaken under the National Deworming programme. He said that the chief medical officers (CMOs) have been directed to work in coordination with school education, women empowerment and child development and Panchayati Raj departments and other linear departments for the success of the campaign. The minister further informed that a total of 56,453 employees have been deputed in the campaign which includes 11,888 ASHA workers, 22,815 teachers, 20,067 Anganwadi workers and 2673 ANM workers. Rawat said that the left out children would be given tablets on Mop up day, October 17.
The officiating director general of Health Dr Vinita Shah, director of primary education Vandana Gabriyal, director of National Health Mission (NHM) Dr Saroj Naithani, the Dehradun CMO Dr Manoj Upreti and others were present on the occasion.